Hamilton, a city located in southeastern Ontario, is known for its vibrant neighbourhoods, the affordable housing market, and diverse economic opportunities. Named after its founder George Hamilton, a Canadian merchant and politician, the city has rapidly developed into an essential port and rail centre. This is largely due to the opening of the Burlington Canal, which has played a key role in the city's growth. 
Today, Hamilton is one of Canada's leading industrial centres and a financial hub with a booming real estate market.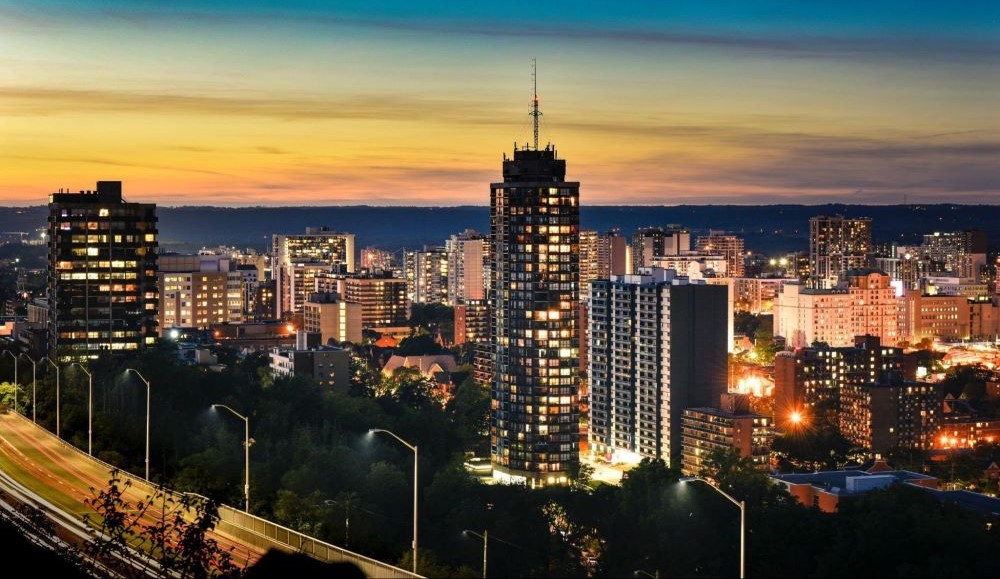 Hamilton as an Industrial and Financial Centre
Hamilton is a city that has it all – a rich history, vibrant culture, beautiful natural surroundings, and a diverse economy that offers great job and career opportunities. It has long been known as an industrial powerhouse, tracing its roots back to the mid-19th century when its iron and steel industry was first established. Today, Hamilton is the largest steel producer in Canada, accounting for a substantial portion of the country's steel output. But that's not all – Hamilton's economy has evolved and diversified to include other industries critical to its success, such as the manufacturing of railroad equipment, turbines, appliances, automotive parts, and clothing.
Aside from its industrial prowess, Hamilton's economy is also boosted by the local government, healthcare, and education sectors. The city has become a financial hub, offering great opportunities for investment and business growth. McMaster University, one of the most prestigious universities in Canada, is another significant contributor to Hamilton's economy. The university attracts a large number of domestic and international students every year, filling the city with energy and diverse perspectives. 
The city's diverse economy also includes fruit-growing and agriculture. For example, the St. Jacobs Market District is a major tourist attraction that draws visitors from all over Canada. The market offers fresh produce from local farmers, making it an excellent place to experience the city's vibrant culture
Hamilton's diverse economy, central location, and excellent transportation connections make it an ideal spot not only for business and leisure activities but also for those looking to call it home. Let's take a closer look at Hamilton's housing market and what makes it an attractive destination for buying a property.
Hamilton as a Home: Housing in Hamilton
Hamilton real estate has become increasingly popular among families and young adults due to its affordable prices and high quality of life. The city is considered safe and has a lower crime rate than other major Canadian cities.
With some of Ontario's oldest settlements, vibrant neighbourhoods, and well-built homes, Hamilton offers a unique blend of history and modernity, making it an attractive destination for buying a property. Whether you're looking for historic neighbourhoods or modern developments, Hamilton offers a range of housing options to suit every taste and budget.
In addition to its attractive housing options, Hamilton's transportation system makes it an even more desirable place to call home. The city offers a comprehensive public transportation network that includes buses, trains, and light rail, making it easy to commute to work or explore the surrounding area. With excellent connectivity to major highways, Hamilton residents can easily access all the amenities of big city living without the high costs. Plus, its central location makes it an ideal spot for those who want to travel to other cities, including Toronto and Niagara Falls, for work or leisure. Overall, Hamilton offers a high quality of life and a range of housing options to suit every taste and budget. Whether you're a young family, a first-time homebuyer, or an investor looking for a strong rental market, Hamilton has something to offer. So without further ado, let's take a closer look at some of the best neighbourhoods in Hamilton!
The Best Neighbourhoods in Hamilton
When it comes to the best neighbourhoods in Hamilton, each area offers its unique character, charm, and community spirit. Whether you're looking for a quiet suburban lifestyle or an urban vibe, Hamilton has something to offer for everyone.
     1. Ancaster
Ancaster is a historic neighbourhood that boasts one of Ontario's oldest settlements. It is a vibrant community with excellent amenities and proximity to the Hamilton GO Station. Overall, it's a highly desirable neighbourhood in Hamilton, known for its historical significance and beautiful homes. It is a popular choice for families and young professionals looking for a welcoming community with a small-town feel.
     2. Corktown
Corktown is one of the most sought-after areas in Hamilton, offering a quiet yet beautiful environment within walking distance of all amenities. This neighbourhood has easy access to transit, parks, shopping, and restaurants, making it an ideal location for both up-and-coming individuals and young families. Although the price point is a bit higher in comparison to the rest of Hamilton, it is lower when compared to its surrounding areas.
     3. Durand
Durand is located near the downtown area of Hamilton, providing residents with direct access to the central hub of the city. With affordable and well-built homes, Durand is a price-friendly neighbourhood for newcomers. The area is home to several parks, including Durand Park, which is located at the centre of the neighbourhood and is a popular spot for picnics, dog walking, and sports. The neighbourhood also features a number of restaurants, cafes, and shops, many of which are located on James Street South, a popular commercial district. One of the unique features of Durand is its diverse housing options. The neighbourhood is home to everything from Victorian mansions to modern condos, providing a wide range of options for potential residents. Additionally, the neighbourhood is relatively affordable compared to other downtown areas, making it an attractive option for young professionals, families, and retirees.
     4. Gibson
With its scenic parks, spacious homes, and proximity to both downtown and the waterfront, Gibson is a neighbourhood that is rapidly gaining popularity in Hamilton.  Its prime location makes it an attractive option for those looking for newer properties or redevelopment opportunities. Keep an eye out for these homes on the market.
     5. Kirkendall
A lively neighbourhood with amazing amenities, Kirkendall is a fantastic place located in the Southwestern part of Hamilton. With diverse nightlife, great restaurants, and trendy shops, this neighbourhood has everything you desire. It has also been rated as a very safe place to raise a family. Loved by new parents due to the friendly neighbourhood, Kirkendall provides residents with countless reasons to move in.
     6. Stoney Creek
Stoney Creek is an incredibly sought-after community located in the east end of Hamilton. With nearby highway entrances to Toronto and Burlington, the neighbourhood is easily accessible despite its distance from the downtown core. It offers beach life and beautiful greenery, making it one of the city's fastest-growing neighbourhoods.
     7. Westdale
Westdale is a university community that houses many McMaster University students and professors. The neighbourhood has many convenient amenities such as shopping centres and restaurants. With its lively vibe and young demographic, Westdale is a comfortable place for all residents.
     8. West Hamilton
West Hamilton is a modern neighbourhood with a village feel, boasting local coffee shops, restaurants, and vendors. Located close to downtown and McMaster University, West Hamilton is another university community.  Its Victorian-style homes are something to behold, and its parks and green spaces make it a good choice for convenient living.
Additionally, if you're looking for the latest and greatest in Hamilton real estate, be sure to keep an eye out for exciting preconstruction developments that may be available in some of the city's most desirable neighbourhoods.