Promenade's Background


Promenade Mall has been an essential part of the Thornhill-Vaughan community for over 30 years. When it first opened its door in 1986, it served as both a retail and social hub for the neighbourhood with Sears Canada being its major anchor tenant – accounting for almost 20% of the retail space. In 2017, Sears Canada departed from Promenade mall due to bankruptcy and further reflected the changes in the retail market. Large indoor malls continue to face difficulties with ageing infrastructure and have become increasingly less viable as online shopping increases its dominance in the retail sphere.
Redevelopment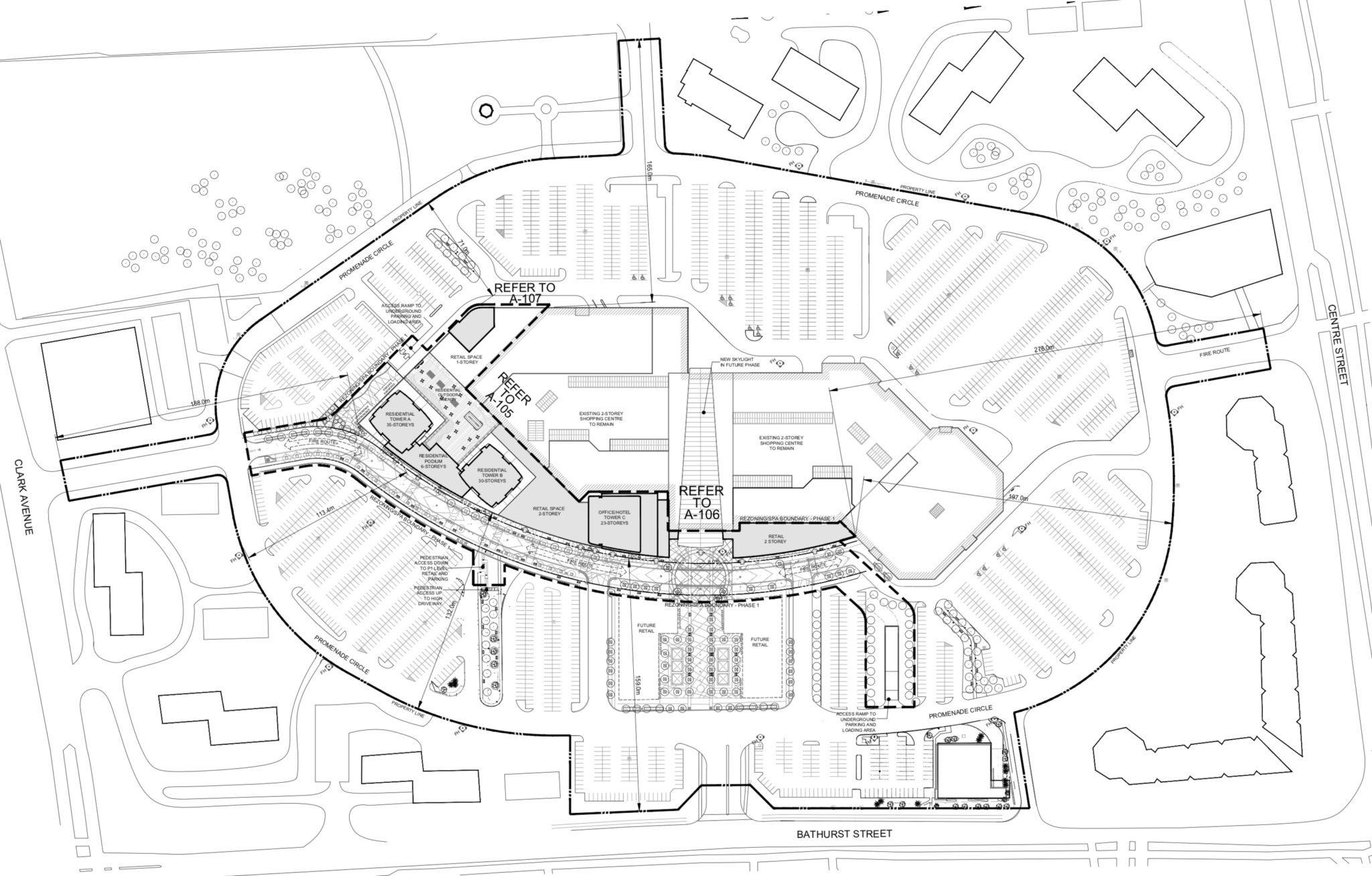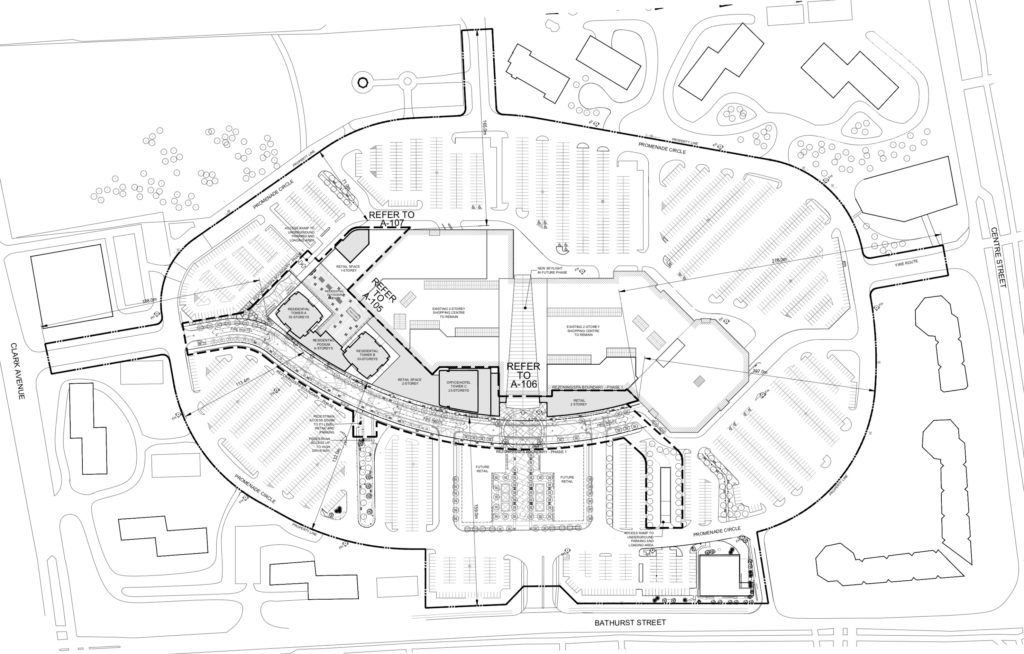 In order to adapt to these challenges, the Promenade Limited Partnership has embarked on the transformation of Promenade Mall into a public realm that takes advantage of major transit initiatives in the area to increase pedestrian activities and linkages. The mall will maintain its core function as a retail space while providing opportunities for work offices, hotels, and residential condominiums to flourish as well. The plan is to create a new mixed-use neighbourhood, comprised of a variety of land uses in a high density built form. It will be supported by a new public park, a system of public and private streets, and pedestrian connections linking the mall to the existing parks and surrounding community facilities.
Phase 1 proposes to demolish portions of the mall and introduce a new High Street which will, in the future, connect Centre Street to Clark Avenue. Along the new High Street, four new towers are proposed consisting of 2 residential and 1 commercial.
Two residential towers connected by a 6-storey podium base will occupy the location of the former Sears store. The first tower is proposed at 35 storeys and the second at 30 storeys. They will have a total unit count of 731 comprised of 340 one-bedroom, 387 two-bedrooms, and 4 three-bedroom units. Finally, a 23-storey fourth tower located south of the mall's main entrance will be a combination of offices and hotel use. The first 13 floors will be offices while floors 14 to 23 will house 170 hotel suites.
Plenty of amenity space both indoor and outdoor has also been planned and includes landscaped areas, patios, balconies, roof terraces, swimming pools, and communal lounges. Based on site plans, landscape architecture firm Schollen & Company Inc. has plans to create a pedestrian-friendly gateway plaza that will include plenty of beautiful ponds and green space. Also included in the site plans are a transit hub, community centre, outdoor amphitheatre and tree-filled park.
Transportation at Promenade
Along with redevelopment of the shopping centre, several transportation demand management measures will be integrated. These include: on-street cycling infrastructure, transit shelters, car-share parking, bike-share, electrical vehicle charging, and more.
The Promenade Bus Terminal is serviced by VIVA, YRT, and TTC. Expansions are proposed in order to accommodate the increased demand anticipated from the completion of the BRT.
There are several YRT buses to travel around locally while the TTC 160 Bathurst Street bus will get riders to Wilson Station and onto the Yonge-University subway line. Lastly, VIVA orange and VIVA purple also have stops at TTC subway stations and connect you to TTC's Subway system as well.
For drivers, Bathurst St will remain a major arterial road that provides access to Highway 7 and 407 from Promenade.
Future Transit Initiatives
Metrolinx is currently working on the Yonge North Subway Extension that will involve extending the subway line 7.4km north from TTC Finch Subway station to Highway 7 at Richmond Hill Centre Terminal. Additionally, an 8.1km dedicated rapid way is scheduled to open in December 2019 providing drivers connection to the Richmond Hill Centre Terminal from the current site of Promenade Mall.
Redevelopment will create a desirable, transit supportive, mixed-use neighbourhood in Thornhill-Vaughan, comprised of new homes, jobs, community uses and open spaces.