With a proposal submitted and planning underway, Birchley Park is getting ready to make its mark in Scarborough's family-oriented neighbourhood of Birch Cliff. Embraced by the beautiful bluffs of Birch Cliff and charmed by the charismatic appeal of The Danforth, Birchley Park promises to offer future residents the best of both worlds. 
Birchley Park Project Summary
Project Name: Birchley Park Condos
Location: 411 Victoria Park Avenue, Toronto
Developer: Diamond Kilmer Developments
Architect: TACT Architecture Inc.
Interior Designer: Patton Design Studio
Status: Pre-construction
No. of Buildings: 7
Storeys: 3 to 12
Building Type: Condominiums, Townhomes
Total no. of units: 1,052
Unit Mix: 1 to 3
Suite Size: TBA
VIP Launch Date: TBA
Estimated Occupancy Date: TBA
The seven-building condominium and townhome development range from three to twelve storeys, offering a total of 1,052 brilliantly designed suites complete with stunning interiors.
With condos for sale, affordable apartments for rent and a diverse array of amenities, this master-planned community is preparing to offer something to everyone.
Only steps from several world-class retailers, restaurants, transit options and popular cultural attractions, young professionals to large families will be pleased to have everything they could possibly need – all within arm's reach.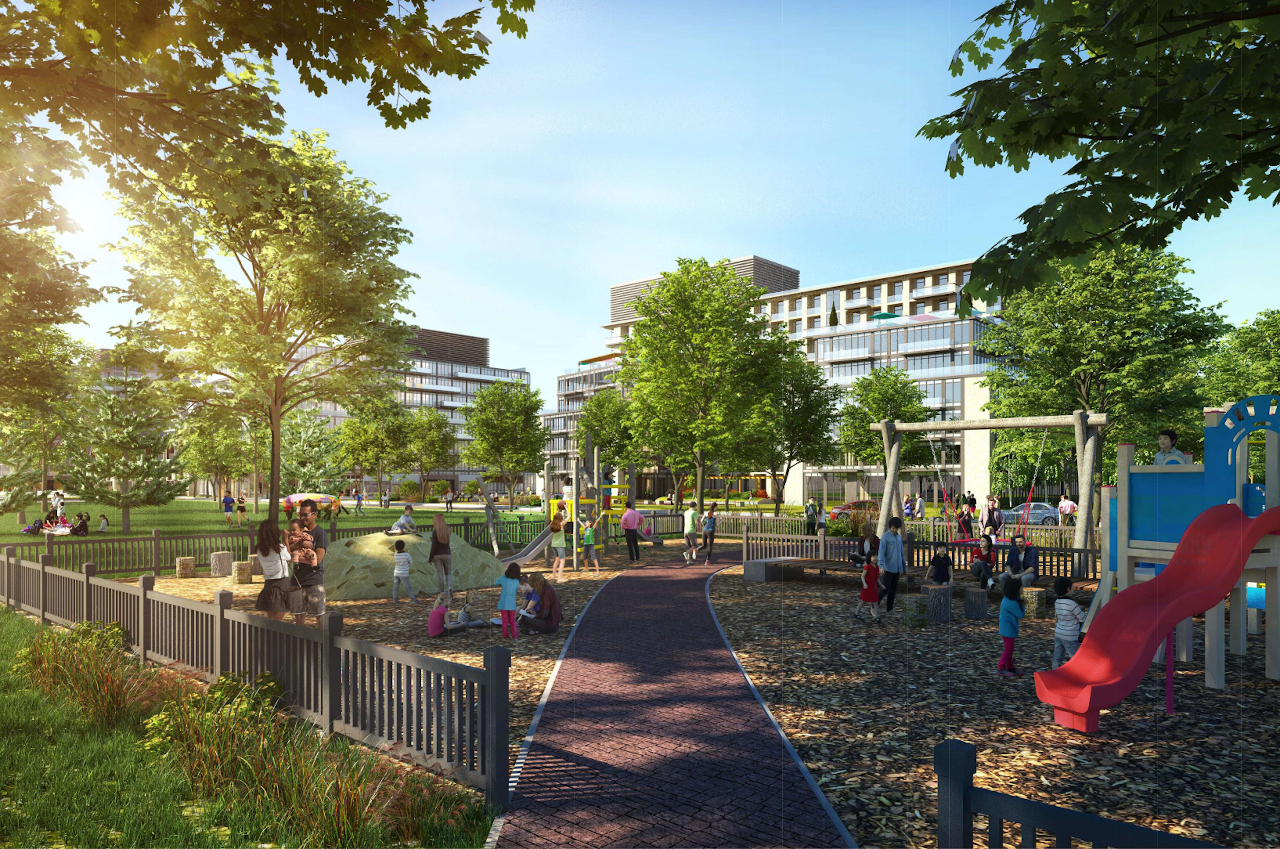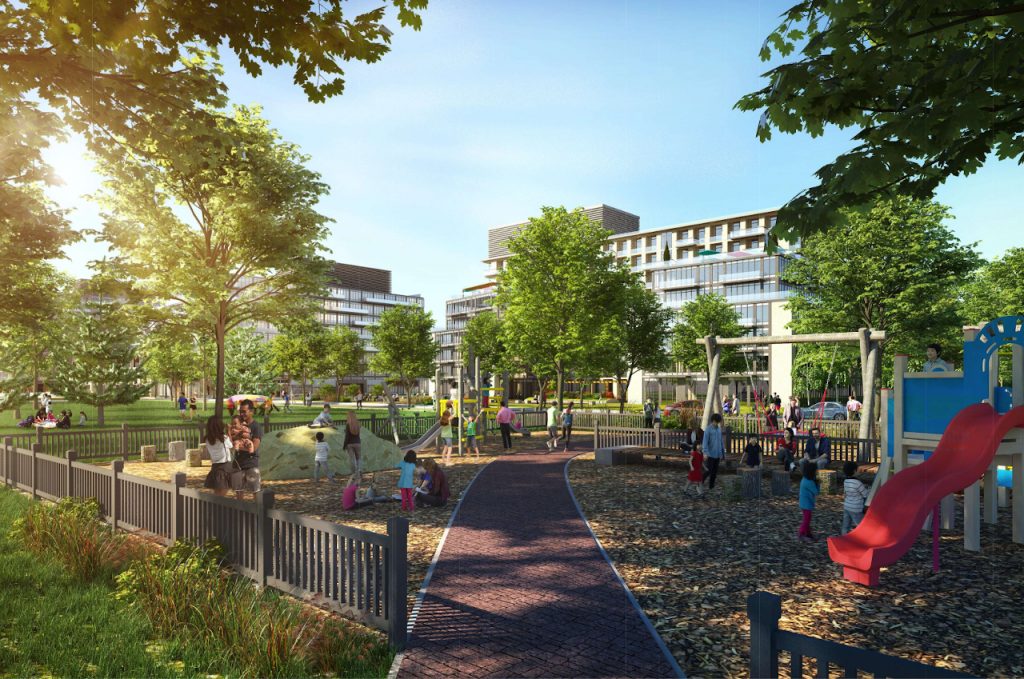 BIRCHLEY PARK AMENITIES
With an extensive variety of indoor and outdoor amenities, Birchley Park is intent on blurring the line between needs and wants. Ranging from one to three bedrooms, Birchley Park Condos will present open-concept suites, complemented by modern features and finishes.
Amenities serving this community include but are not limited to the following: an indoor fitness club, sauna, cabanas, kids' zone, and a basketball court. Residents will have exclusive access to an 8-acre community park providing them with their own space for fun and relaxation. There will also be enough parking spaces for every resident.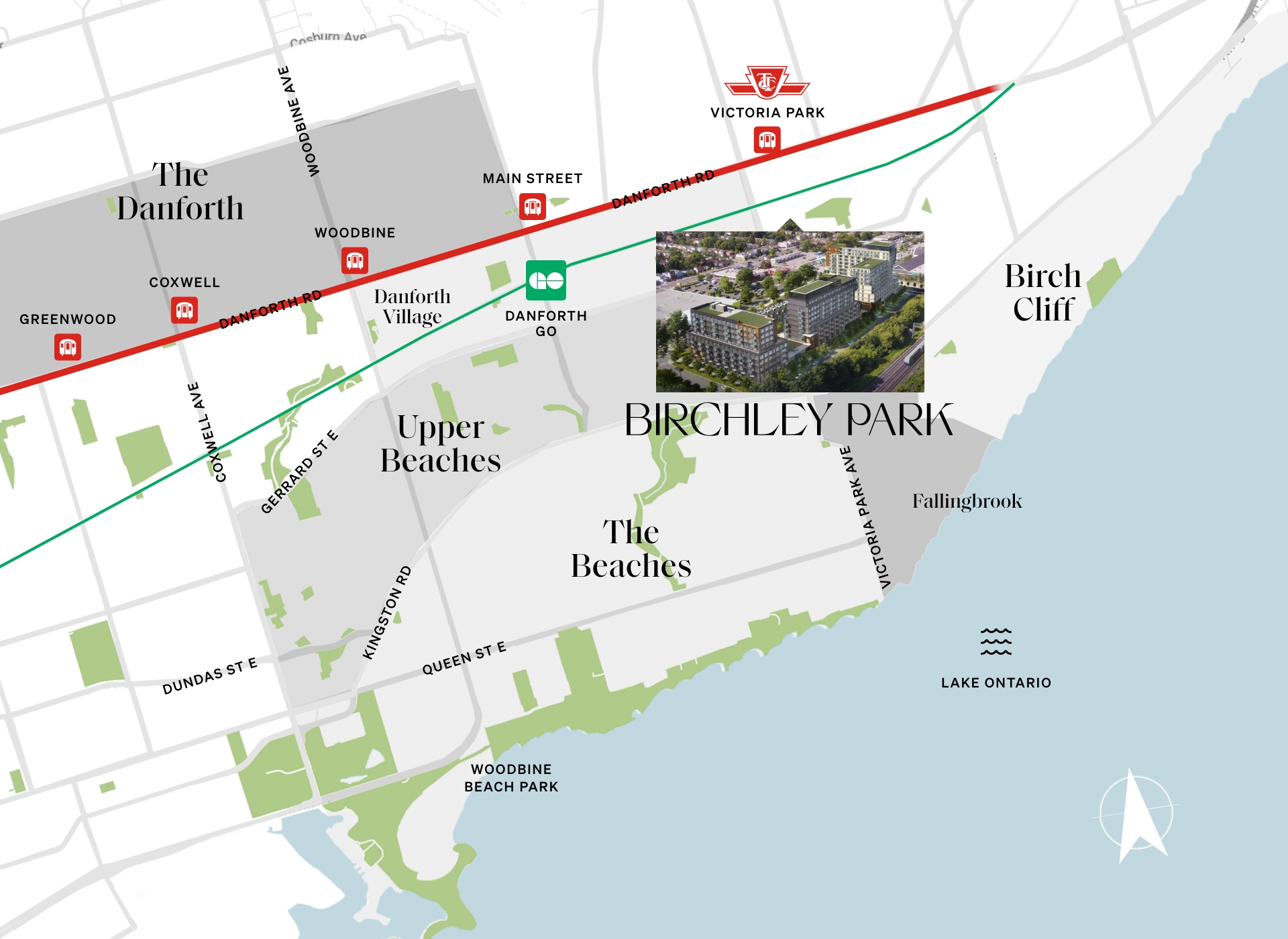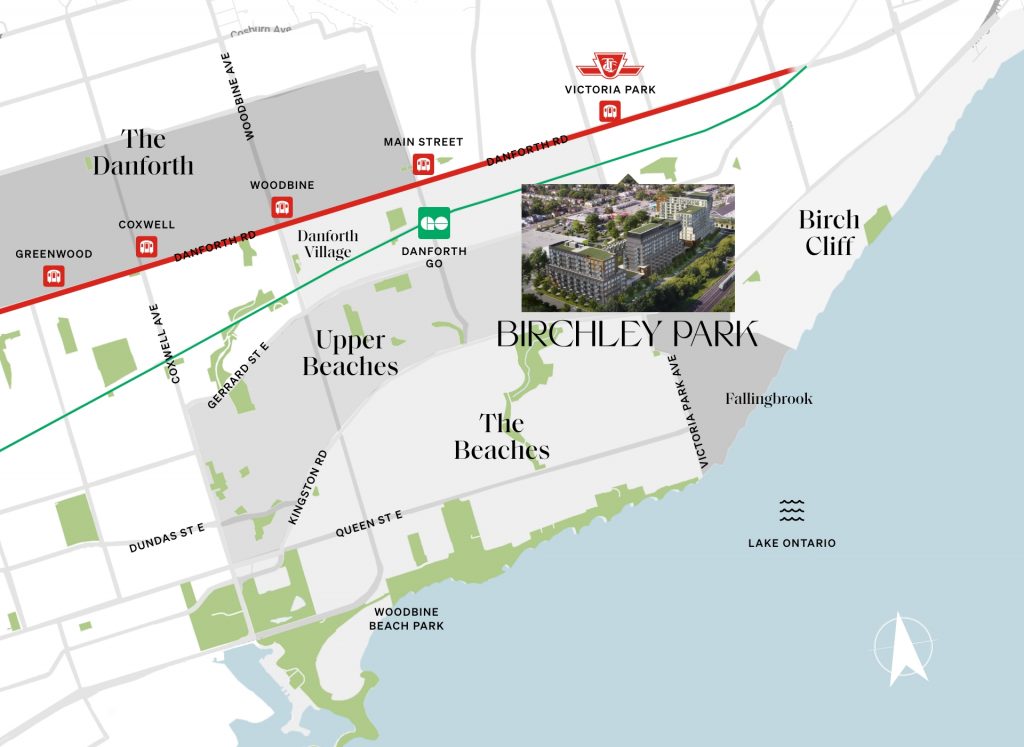 LOCATION & TRANSIT
Located at 411 Victoria Park Avenue, Birchley Park Condos will be situated northeast of Victoria Park and Gerrard Street East. Within the vicinity is a mix of retail and convenience stores, neighbourhood bars and restaurants, and professional and medical offices. Major nearby retailers include Loblaws, Metro, Staples, Canadian Tire, Lowe's, and Shoppers Drug Mart.

Residents will be a 5-minute walk from The Danforth Village, a cultural hub that presents some of Toronto's best restaurants, shopping experiences, and festivals. The Danforth Village is also home to The Taste of The Danforth festival, which takes place every summer and attracts many locals and tourists alike. Also known as Greektown, this area delivers on several authentic Greek restaurants, fresh farmers' markets, and trendy boutique shops and art exhibits.
Along the nearby Kingston Road Village, one can appreciate all that nature has to offer. During downtime, locals can walk down a plethora of parklands and long stretches of beach, all against the idyllic backdrop of the bluffs and Lake Ontario. The artistic tone of The Danforth continues west of the Toronto Hunt Club along Kingston Road, which is more modernized and includes an art gallery, a doggie daycare, a party + play centre for children, and upscale cafés and restaurants.
Locals can experience all this and more, while being only 15 minutes from downtown Toronto. Travel is made easy with quick access to multiple transit options and major highways. Commuters can find themselves a short walk from the Victoria Park Subway station and the Danforth GO station, while motorists can get onto Highway 401 and Kingston Road within minutes. From Kingston Road, drivers can connect to Gardiner Expressway, Lakeshore Boulevard, and the Don Valley Parkway.

BIRCHLEY PARK DEVELOPER
A buzzworthy project by Diamond Kilmer Developments, Birchley Park is set to establish an electrifying new community within the Birch Cliff neighbourhood. A partnership between Diamondcorp and Kilmer Group, Diamond Kilmer Developments is a Toronto-based real estate developer well-known for its high-quality homes across the GTA.
This company's establishment is characterized by an unlikely friendship between two industry competitors. Operating individually as builders and promoters for Toronto, founders Eph Diamond and Larry Tanenbau found that they shared the belief that quality, integrity, and innovation lead to success. Their friendship continued through their sons, who acted on these shared values by entering a formal partnership.
Since its inception, Diamond Kilmer Developments has executed Reunion Crossing Condos & Urban Towns, an ambitious master-planned community located in the trendy Stockyards District. The award-winning Diamondcorp has been responsible for developing 210 Simcoe and Minto Southshore, while Kilmer Group is widely known for overseeing the construction of the Canary District residences.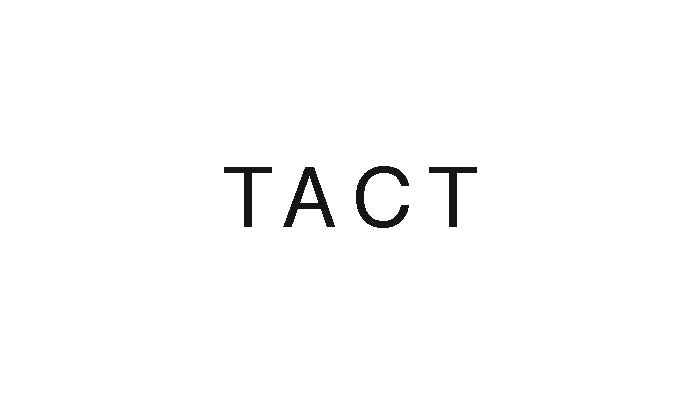 ARCHITECT
TACT Architecture Inc. is a well-established design and land approvals firm based in Toronto. Pursuing a design-centric outlook while focusing on efficient development in each of its projects, the award-winning team has grown steadily over the past decade to become one of Toronto's top architectural companies.
Since its foundation, TACT has accepted several design awards, including the Best Emerging Practice Award presented by the Ontario Association of Architects in 2012. TACT works with a diverse group of landowners and real estate developers while maintaining positive relations with resident groups, municipalities, and politicians. With its flashy and extensive portfolio that continues to grow, TACT Architecture has proven time and time again that it can and will excel in any pre-construction projects it takes on. 
Register Now to Receive Immediate Access to Floor Plans & Pricing!