Project Summery 
Project Name: 10 Royal Orchard Blvd
Location: 10 Royal Orchard Blvd, Thornhill
Developer: Greencapital Limited Partnership
Architect: 
Interior Designer: 
Planning Firm: Gatzios Planning + Development Consultants Inc.
Status: Pre-construction
No. of buildings: 4
Storeys:  25-59
Building Type: 
Total no. of units: 
VIP Launch Date:
Estimated Occupancy Date:
Plans for redevelopment of 10 Royal Orchard Blvd have been submitted to the City of Markham. The current site consists of a small commercial plaza that includes Shoppers Drug Mart, Food Basics, and a real estate office. The application proposes to redevelop the land into a 4 high rise building community, ranging in height between 25 to 59 storeys. Commercial uses are proposed in the podium of the building to be located at the north east corner of Yonge Street and Royal Orchard Boulevard, and a park block.
LOCATION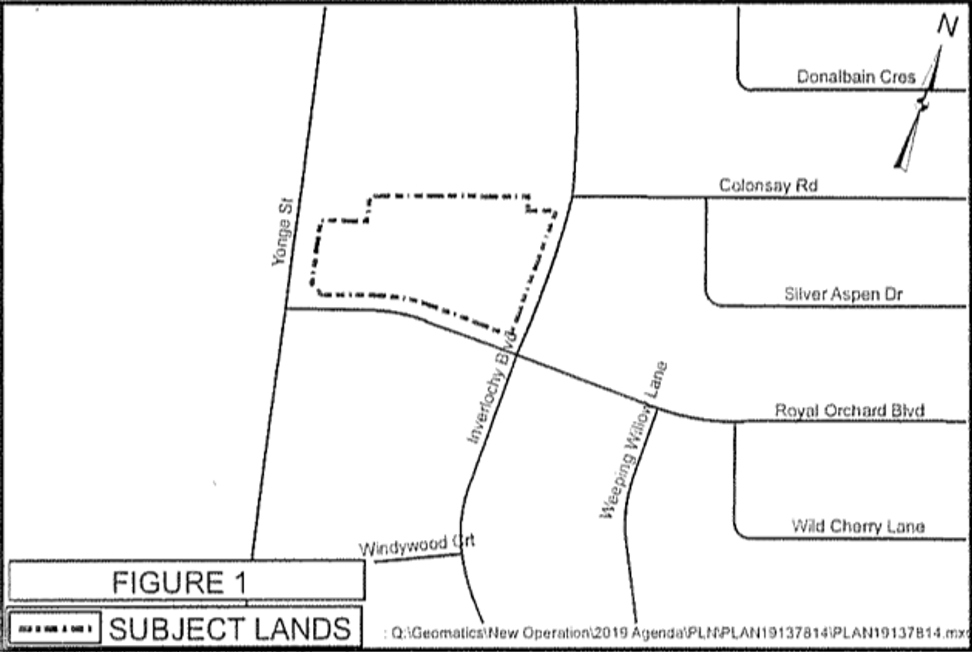 Location is unprecedented for 10 Royal Orchard Blvd residents. Whether you're a homebody who prefers in-house entertainment and dining, or you're a nature lover, everything you could possibly need is within moments of your doorstep.
For starters, the view from your suite is breathless – featuring acres of luscious greenlands comprising golf clubs, parks, and walking trails. Enjoy a late-afternoon Sunday golf session at one of the nearby clubs, which includes The Thornhill Club, Ladies' Golf Club of Toronto, and Uplands Golf & Ski Club. The Thornhill Club is worth mentioning, as membership at this private club features a variety of activities, not just golfing. To meet your entertainment needs, stay active while challenging your friends and family to a game of tennis or curling. Alternatively, if you're more of a fitness enthusiast, The Thornhill Club has a Fitness Centre equipped with fitness classes, personal training services, and wellness services. At the Thornhill Club, you can live the elite, active lifestyle you've always wanted to live.
The Langstaff neighbourhood is also heavily populated with a variety of different eateries to satisfy your cravings. Grab a bite to eat after a long day at work or school at Steve's, a traditional Canadian restaurant, or Symposium Café Restaurant & Lounge, featuring American eats both with both indoor and outdoor seating. Other popular restaurants include Wimpy's Diner, a '50s style diner serving all-day breakfast, and Santo's Italian Cuisine, serving traditional Italian dishes in a casual, cozy seating environment.
10 Royal Orchard Condos residents will undoubtedly have access to vital community amenities that will enrich their lifestyles and won't have them going far for what they need.
Not only is 10 Royal Orchard Condos unparalleled in terms of community amenities – its location is prime for residents who commute. Whether you're heading in and out of the city for work or school, you can do so easily. With Langstaff GO Station only a six-minute drive away, you'll be able to connect to the Richmond Hill Centre Terminal, GO Transit buses, and York Region Transit buses. Also, a ten-minute drive away is Finch Station, which is the terminal station on the Yonge—University line. From this station, residents can connect to GO Transit, TTC, or YRT services.
If you're looking for more local transit and you're not heading too far, many bus routes run on Royal Orchard Blvd, with service being speedy and frequent.
For residents who drive, they will be pleased to know that Highway 407 is just to your north, which can then connect you to other major roadways such as Highway 404 and Highway 400. Whether you want to reach North York, Richmond Hill, Vaughan, Markham, or Scarborough, you can get there easily with the major roadways.