Looking for your dream home in the charming community of Bayview? Look no further than North on Bayview, a prestigious and exclusive address nestled amidst the natural beauty of Bayview and Elgin Mills. With its refined boutique residential and retail design, this 10-acre master-planned community offers an exceptional living experience.
The first phase of North on Bayview introduces an intimate enclave of 48 townhomes, boasting impeccable architecture and spacious interiors. Sunlight floods through large windows, illuminating the timeless yet contemporary façade. Step inside, and you'll be greeted by sophisticated details and stylish space planning meticulously crafted.
Location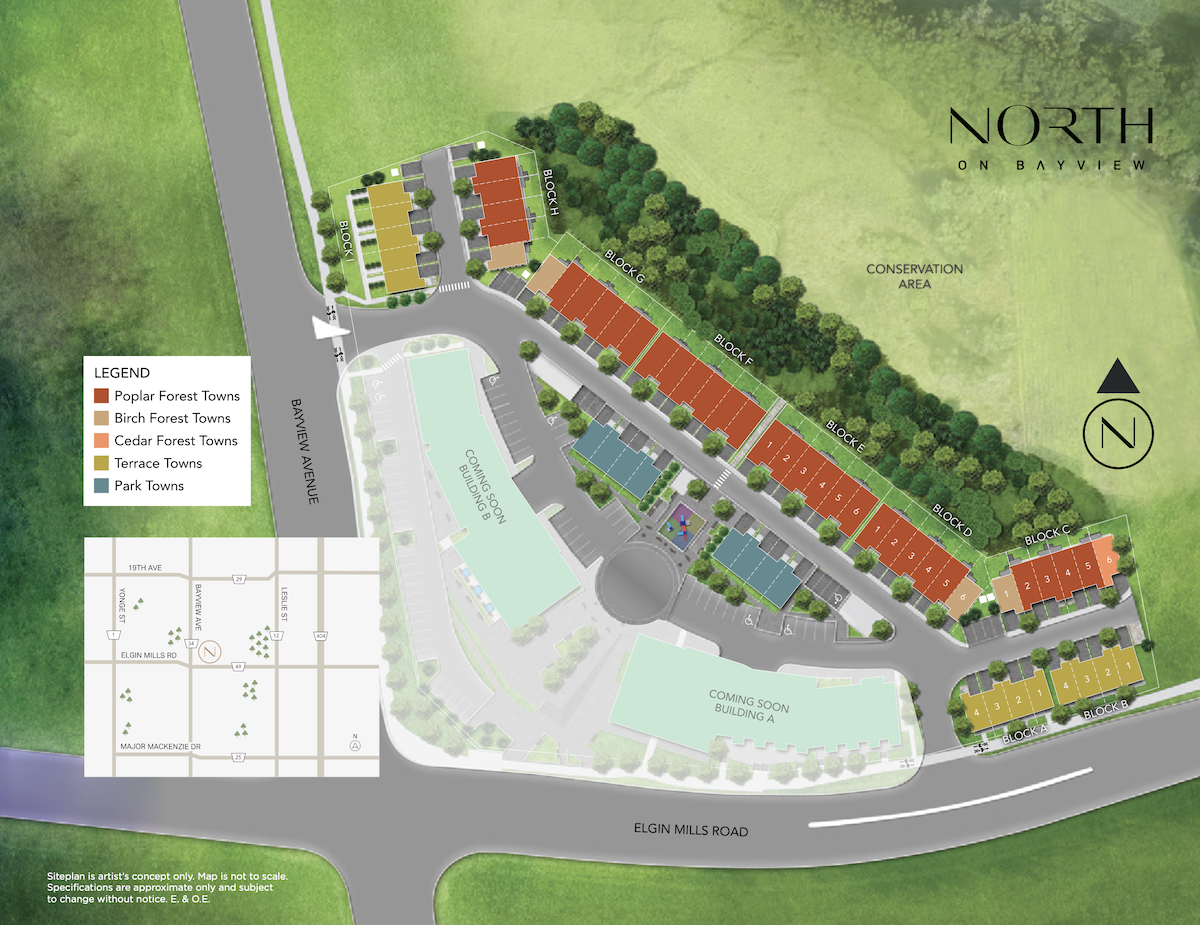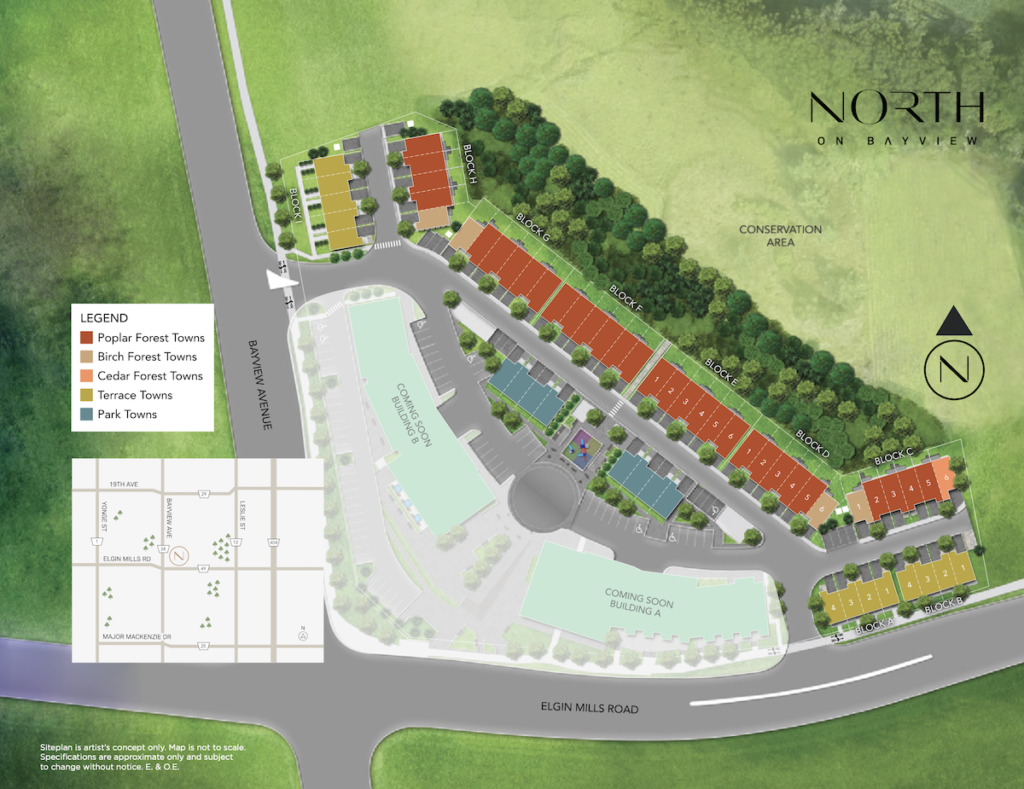 Imagine waking up to the beauty of nature right at your doorstep. At North on Bayview, over four acres of the site are dedicated to open spaces, walking trails, and landscaped pathways. Explore the lush greenery, enjoy leisurely strolls along the trails, or indulge in a picnic on the grass. The large central park invites you to connect with the outdoors, where you can chase butterflies in the meadow or skip stones in the clear waters of the creek. Take a deep breath and relish the refreshing scent of the forest. This is truly nature's sanctuary.
North on Bayview is situated on the Oak Ridges Moraine, a picturesque region characterized by rolling hills, meadows, lush forests, crystal clear lakes, and tranquil creeks. With over 500 acres of natural beauty as your backyard, you'll be captivated by water-inspired adventures at Philips Lake, Bond Lake, or Lake Wilcox Park. Golf enthusiasts can perfect their swing at the renowned Summit Golf & Country Club, while nature enthusiasts can follow storybook trails in the woods. Embrace an active and healthy lifestyle amidst this breathtaking landscape.
Life at North on Bayview is defined by convenience. Just around the corner, bustling Yonge Street presents a world of experiences waiting to be discovered. Savor international cuisines at fine restaurants, casual eateries, bakeries, cafes, and local grocery stores. Immerse yourself in art and culture at theaters, galleries, and malls. Don't miss out on the opening performances of top-rated shows or the chance to delve into local history at museums. Whether you're shopping or dining, everything you need is within easy reach, making every moment count.
Schools
Richmond Hill is renowned for its exceptional education system, boasting a wide range of top-rated public and private schools from elementary through high school. Additionally, prestigious post-secondary institutions such as the University of Toronto, York University, Toronto Metropolitan University, and Seneca College are easily accessible via highways and transit. Enrich your life with educational, cultural, and sporting opportunities through libraries, recreation centers, playgrounds, sports fields, and arenas. Richmond Hill ensures that your family's educational needs are well catered to.
Transit
Richmond Hill offers you the best of both worlds – a serene setting surrounded by nature and convenient access to modern amenities. The development's strategic location provides easy connectivity to Highways 404, 407, and 7, ensuring effortless travel to all parts of the Greater Toronto Area (GTA). Need to commute to downtown Toronto? The Richmond Hill GO Station is just minutes away, offering a stress-free journey in under an hour. VIVA Transit is also at your disposal, allowing you to explore local parks, plazas, offices, and malls. Furthermore, bike paths beckon you to embark on adventures and discover hidden gems. And when you're in the mood for a weekend getaway, cottage country is just a short drive up north.
Developer
Mansouri Living is a renowned real estate development company in Toronto, Canada. With over 30 years of history in the GTA, it combines architectural expertise and community planning to create vibrant living spaces. Led by Sharok Mansouri, a seasoned industry leader, the company incorporates parks, retail, sports centers, and schools into its developments. Under the guidance of the second generation of the Mansouri family, Mansouri Living blends a global business approach with refined design sensibility and unwavering integrity. With over 3000 homes and 600,000 sq.ft. of retail completed or in development, each project is meticulously planned with attention to detail. Choose Mansouri Living for striking architectural details, spacious living areas, and harmonious amenities that connect with the neighborhood.