Discover Reside on Richmond: Your Gateway to Unparalleled Toronto Condos and the Best Real Estate Investment
Welcome to Reside on Richmond, an exquisite collection of condominium residences at the vibrant intersection of Bathurst and Richmond. Boasting an enviable address at 627 Richmond Street West, this pre-construction development redefines modern living and stands as one of Toronto's top real estate investments. With 18 storeys, 216 units, and studio, 1, 2, and 3-bedroom layouts, starting from 300 sq. ft.
Location: Embrace the Urban Lifestyle in Toronto Condos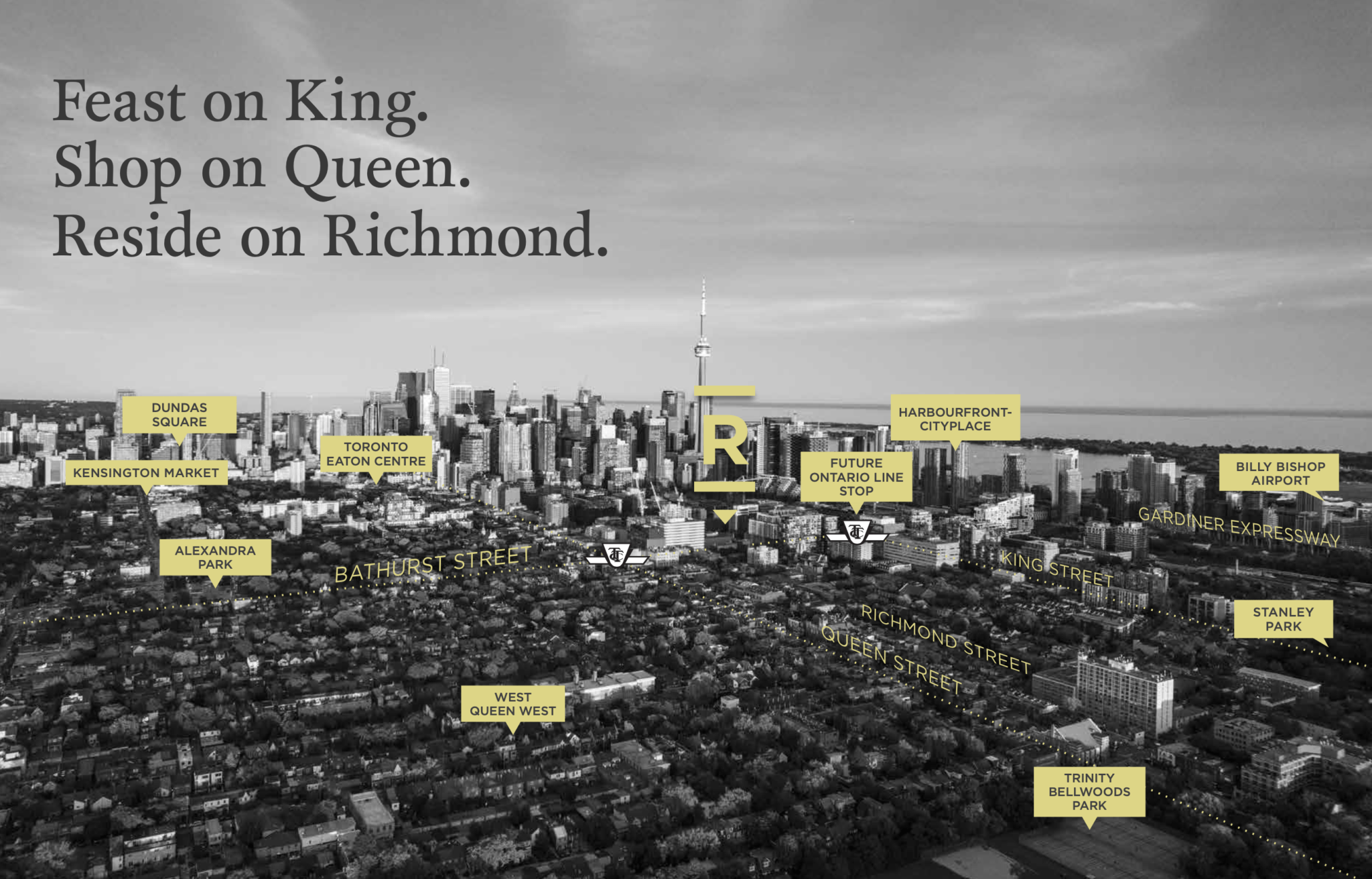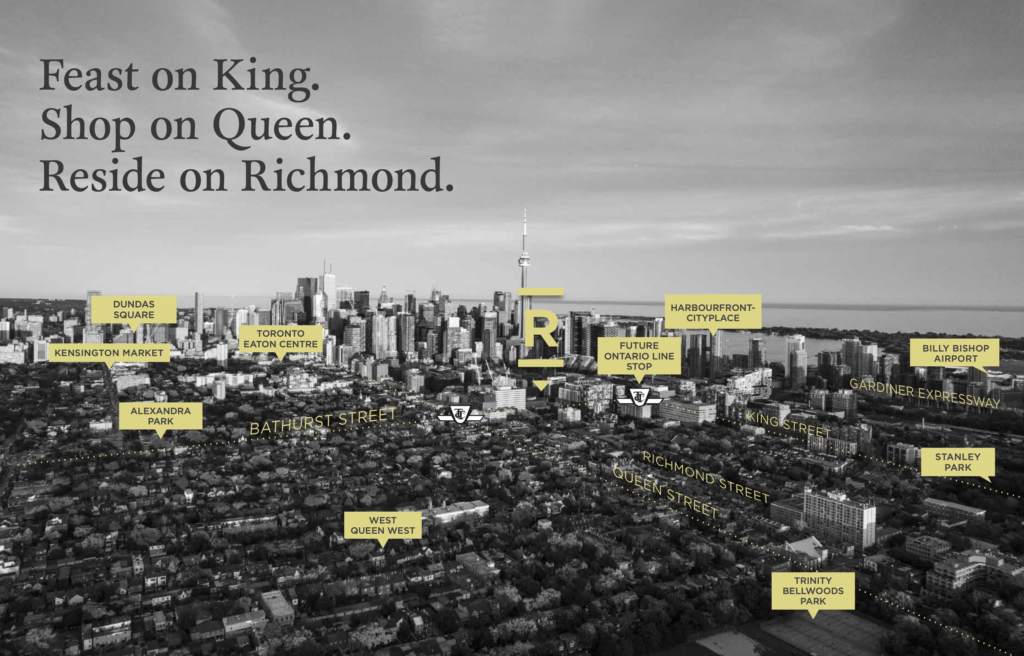 Reside on Richmond places you in the midst of one of the world's best areas for Toronto condos. Ranked #8 on Forbes' list of best international cities to live in 2022, Toronto offers stability, healthcare, education, infrastructure, and a multicultural environment. As a resident, you'll enjoy calling this thriving metropolis home and experience the best real estate investment opportunity.
Indulge in a world of culinary delights as you explore the eclectic mix of cafes, restaurants, and eateries that line Queen St W. From classic southern-Italian cuisine at Terroni's to inventive Japanese small bites at the first Canadian outpost of Raku from NYC, you'll find a diverse culinary scene catering to every palate.
For retail therapy, the neighborhood doesn't disappoint. Immerse yourself in a shopper's paradise with boutique shops, trendy fashion outlets, and unique stores. Discover a wealth of options for the style-conscious.
Reside on Richmond's location ensures you're never far from nature's tranquility. Take a stroll or picnic at nearby parks like Trinity Bellwoods Park, Alexandra Park, or Stanley Park, offering a serene escape.
In addition to immediate neighbourhood amenities, Reside on Richmond offers convenient access to Toronto's iconic attractions. With excellent connectivity and proximity to transportation hubs, explore renowned landmarks, cultural destinations, and entertainment venues.
Amenities: Elevate Your Everyday Experience in Luxury Toronto Condos
At Reside on Richmond, luxury and convenience converge to create an unparalleled living experience. Enjoy the Lobby Lounge, Co-Working Space, Fitness Studio, Games Lounge, and Rooftop Outdoor Terrace.
Transit: Seamless Connectivity at Your Doorstep for the Best Toronto Real Estate Investment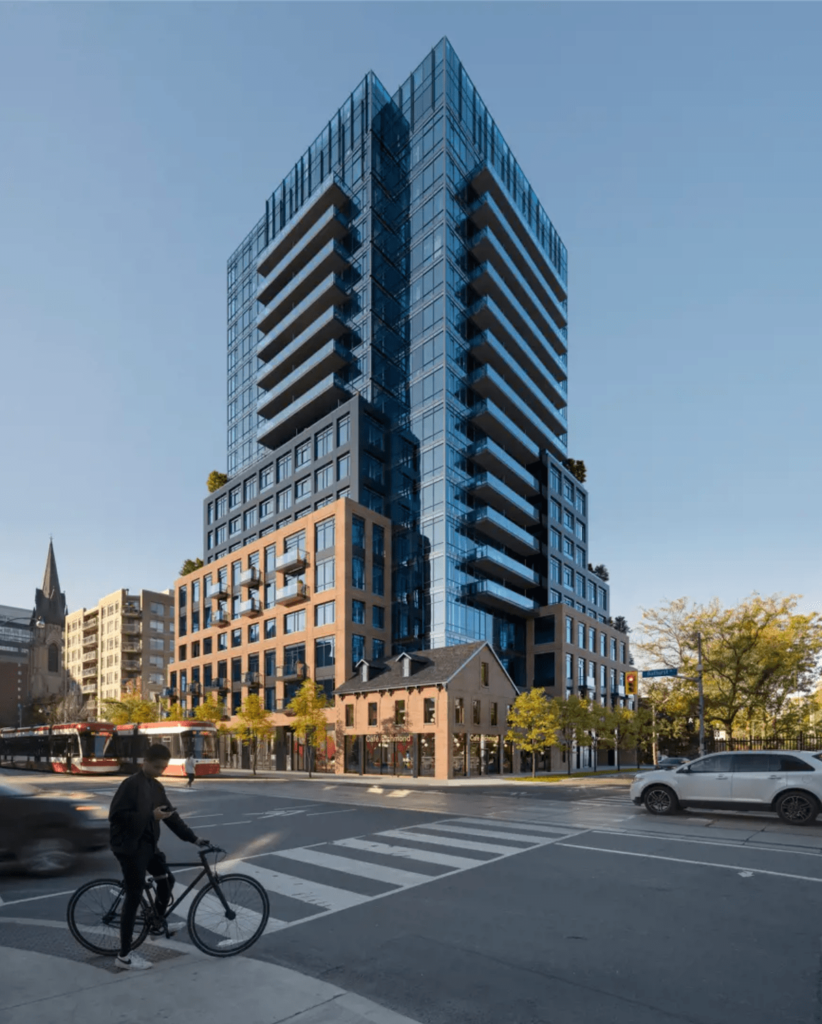 Reside on Richmond offers unparalleled access to everything the city has to offer. With an outstanding walk score of 98, bike score of 99, and transit score of 99, these Toronto condos offer unparalleled access to everything the city has to offer. You're just a 1-minute walk from Queen Street and a 4-minute walk from King Street. The nearby streetcar lines on Queen, King, and Bathurst provide 24-hour service, making commuting a breeze. Additionally, the future Ontario Line, a mere four-minute walk away, will connect you to 15 stations and 40+ travel options, ensuring that you're always well-connected within the city.
The Intersection of Culture and Comfort: Invest in the Best Toronto Real Estate
Reside on Richmond is ideally situated at the quiet intersection of Richmond and Bathurst, offering a harmonious balance between urban vibrancy and tranquility. Experience the stylish atmosphere of King Street, indulge your creative side on Queen Street, and find solace in the serene surroundings of Richmond and Bathurst. With new businesses flourishing and employees returning to offices, downtown Toronto is experiencing an unprecedented boom, making it the perfect time to invest in the best Toronto real estate at Reside on Richmond.
Unleash Your Potential in the Fastest Growing City: Toronto Condos for Growth
Toronto is not only the largest city in Canada but also the fastest growing city in North America, making Toronto condos an excellent investment opportunity. With a projected population growth of 98% by 2041, the city is a magnet for individuals seeking limitless opportunities and the best Toronto real estate investment. Additionally, the job market is set to thrive, with an estimated 316,000 new jobs expected by 2041. Reside on Richmond positions you at the forefront of this accelerated growth, allowing you to take advantage of the dynamic environment and unlock your true potential.
Rental Opportunities in a Rising Market: Toronto Condos for Rent
The rental market in Toronto is booming. Condo rental rates have risen by 24% YoY, with Reside on Richmond presenting an exceptional opportunity for Toronto condos for rent.
Invest in Reside on Richmond: Your Best Toronto Real Estate Investment
Reside on Richmond stands as the epitome of luxurious urban living and the best Toronto real estate investment. Register now to secure your place in one of Toronto's most coveted addresses.
AMENITIES
Lobby Lounge
Part-time Concierge*
Parcel Room
Locked Parcel Storage
Sports Simulator Room
Co-Working Space
Fitness Studio
Party Venue
Games Lounge
Rooftop Outdoor Terrace
Reside on Richmond invites you to embrace the allure of Toronto condos, experience the best Toronto real estate investment, and elevate your living to new heights. Register today and take the first step towards a lifestyle of luxury, convenience, and endless possibilities.
*Disclaimer: All amenities and features mentioned are proposed and subject to change without notice.