Welcome to The Riv Condos by Broccolini – a landmark pre-construction residence nestled at the crossroads of River and Queen, right in the heart of the revitalized Don River area. With 388 thoughtfully designed suites spanning from cozy studios to spacious 3-bedroom layouts, The Riv promises a living experience that caters to your every need.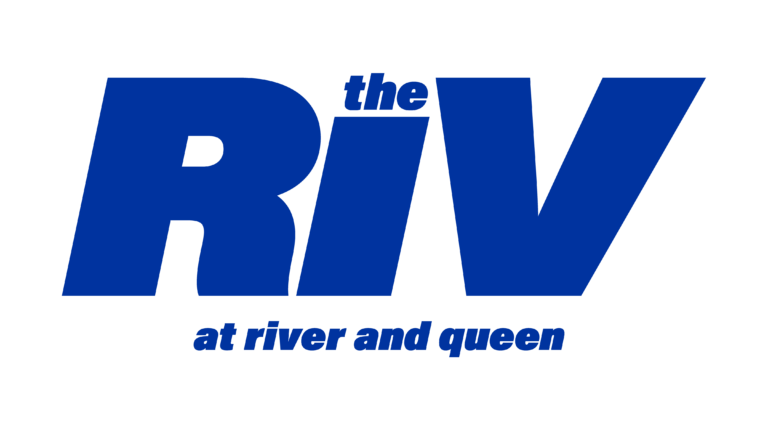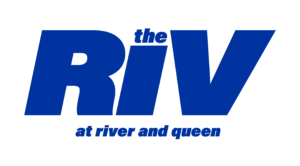 Prime Location: The Riv is Where Urban Connectivity Meets Natural Serenity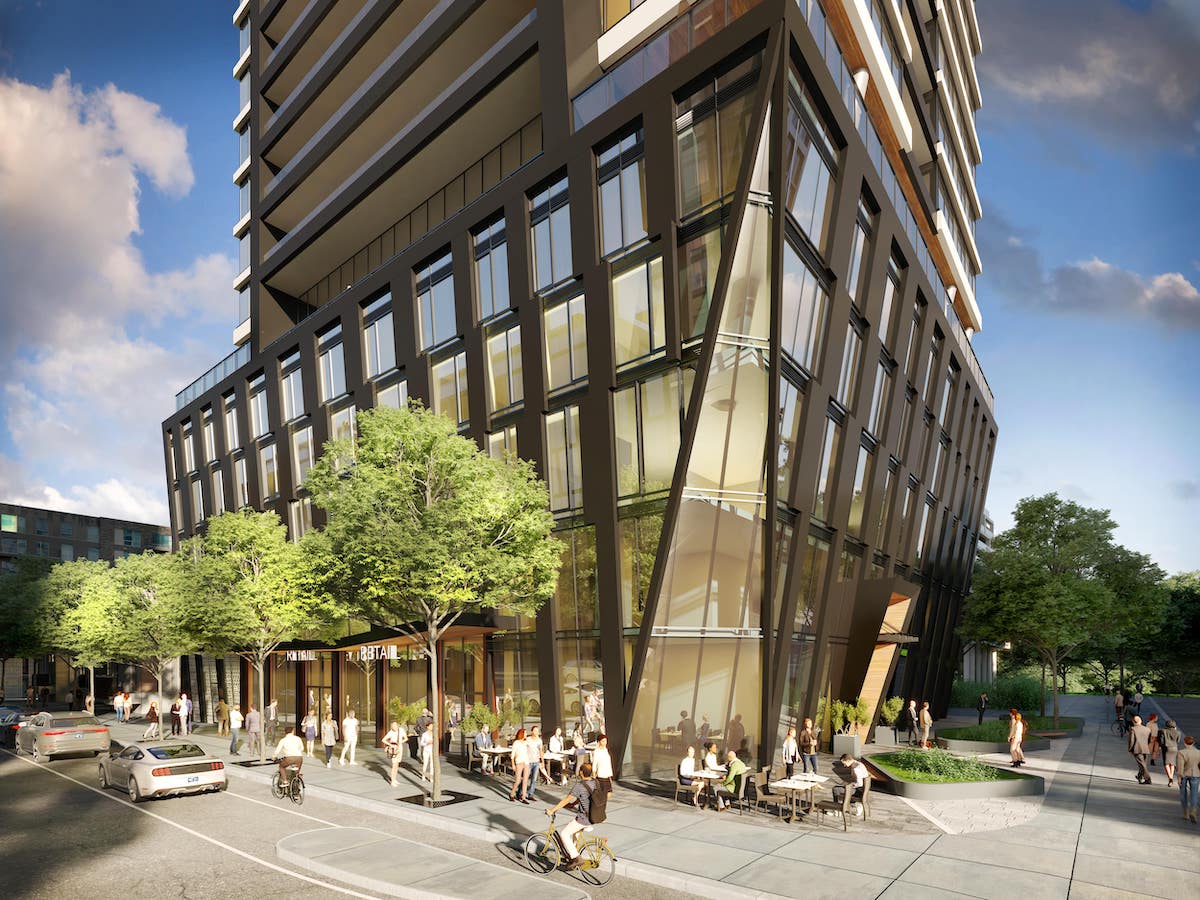 At The Riv, you're not just buying a condo – you're investing in a lifestyle that perfectly balances the vibrancy of city living with the tranquility of natural surroundings. Imagine waking up to the scenic beauty of the Don Valley Trails, with Riverside Park just a leisurely stroll away. The Riv's exceptional location offers you the luxury of being within walking distance to countless city parks, ensuring that you stay connected with nature without sacrificing the conveniences of city life.
Unparalleled Amenities at The Riv Condos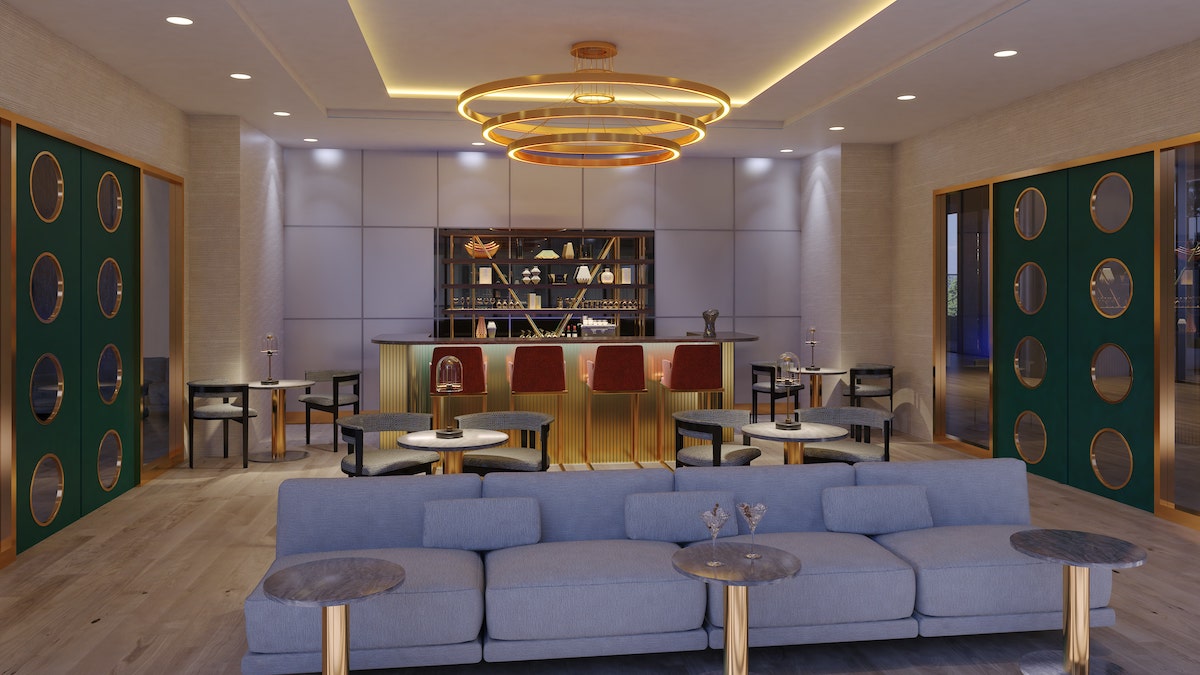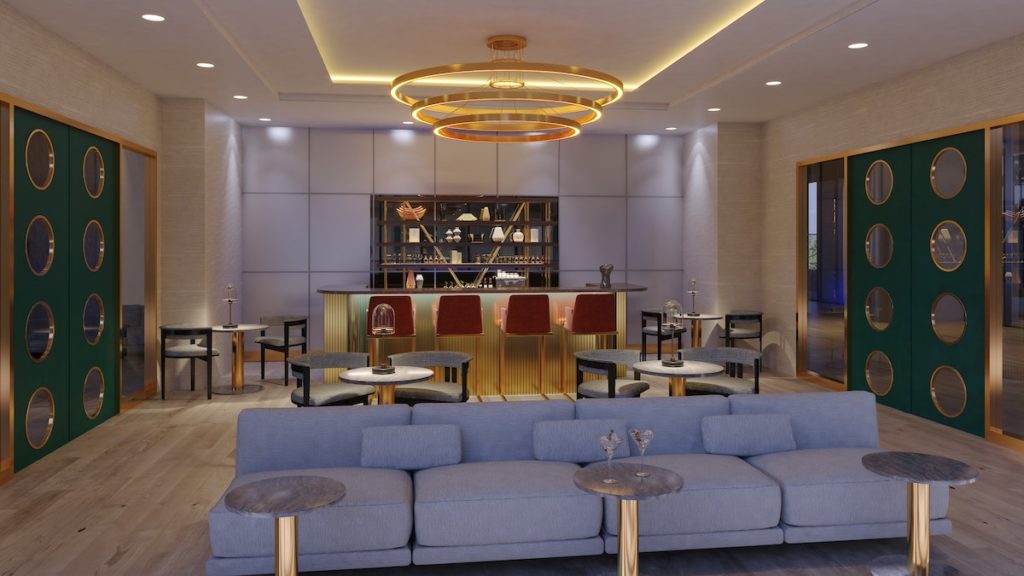 Indulge in over 12,000 square feet of indoor amenities thoughtfully designed to cater to every facet of your life. Whether you're an active soul seeking a state-of-the-art fitness center and yoga studio, a busy parent desiring a dedicated kids' play zone and homework hub, or an entrepreneur in need of a co-working/business center, The Riv has you covered. The pet amenities ensure that your furry friends are just as pampered as you are. And for those who love to express their creativity, an arts & crafts studio awaits.
d
Step out to over 6,000 square feet of outdoor amenities where you can unwind in style. From the serene soirée lounge to the exclusive speakeasy, The Riv offers spaces that cater to every mood. Host memorable gatherings in the private dining area or catch up on your favorite podcasts in the tech lounge/podcast studio. With convenient features like parcel storage, mail pickup, and a guest suite, every aspect of your life at The Riv is designed to elevate your comfort.
Seamless Transit for Effortless Adventures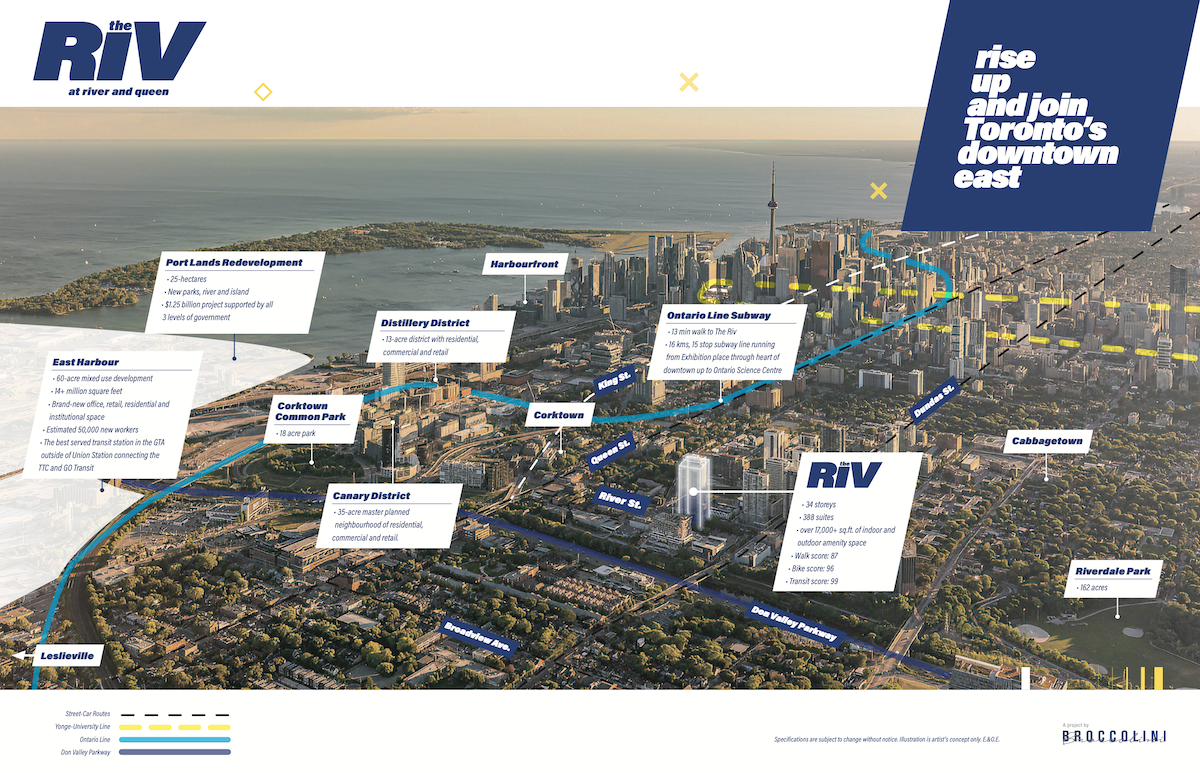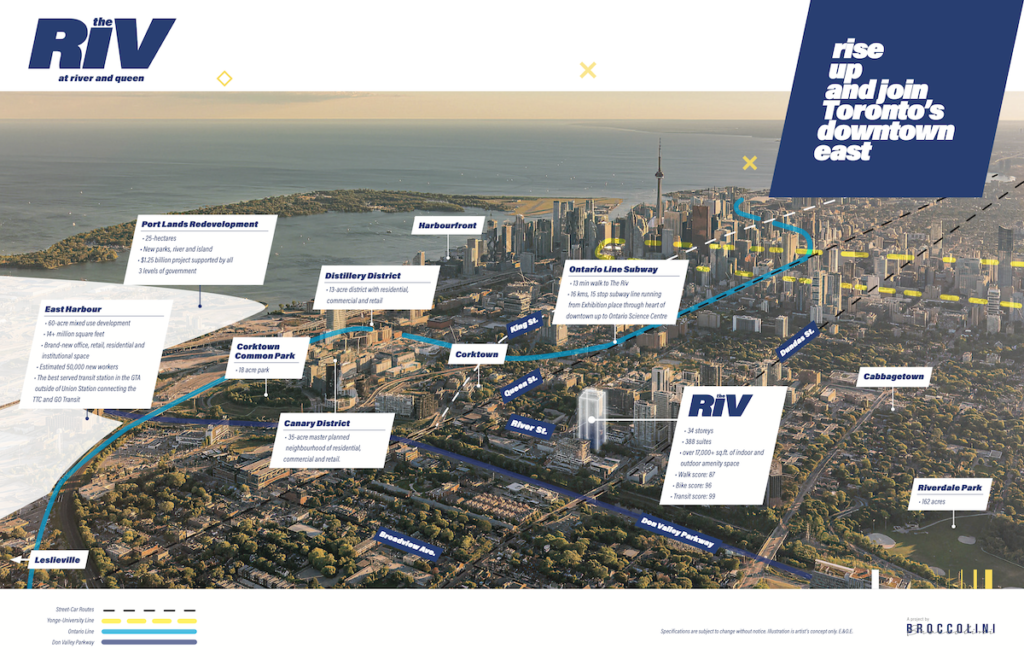 Your journeys around the city become a breeze with The Riv's unparalleled transit accessibility. The planned East Harbour Transit Hub is set to be a game-changer, connecting you to the GO Transit, SmartTrack, Broadview LRT, Queen's Quay LRT, and the new Ontario Line subway line. For your daily commutes, the 24-hour Queen streetcar service offers hassle-free travel. Just a 10-minute streetcar ride to Yonge St. and a mere 7-minute walk to the upcoming Sumach Subway Station. This project ensures that you're always well-connected.
Investment Potential: Your Gateway to a Thriving Rental Market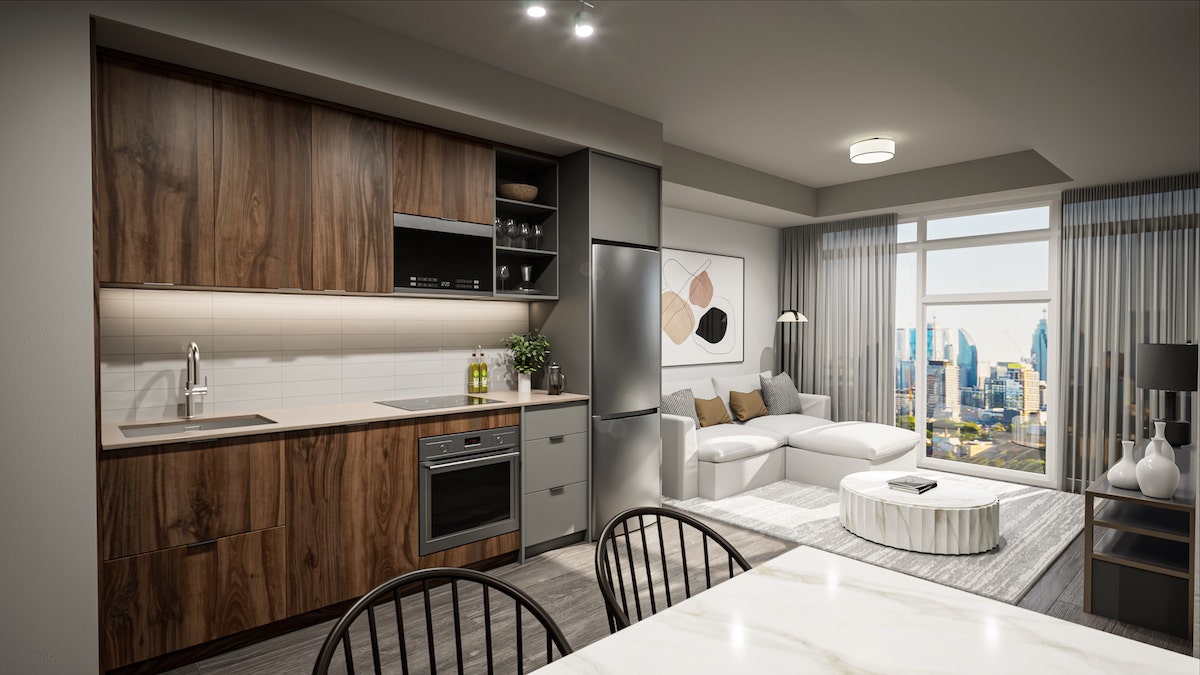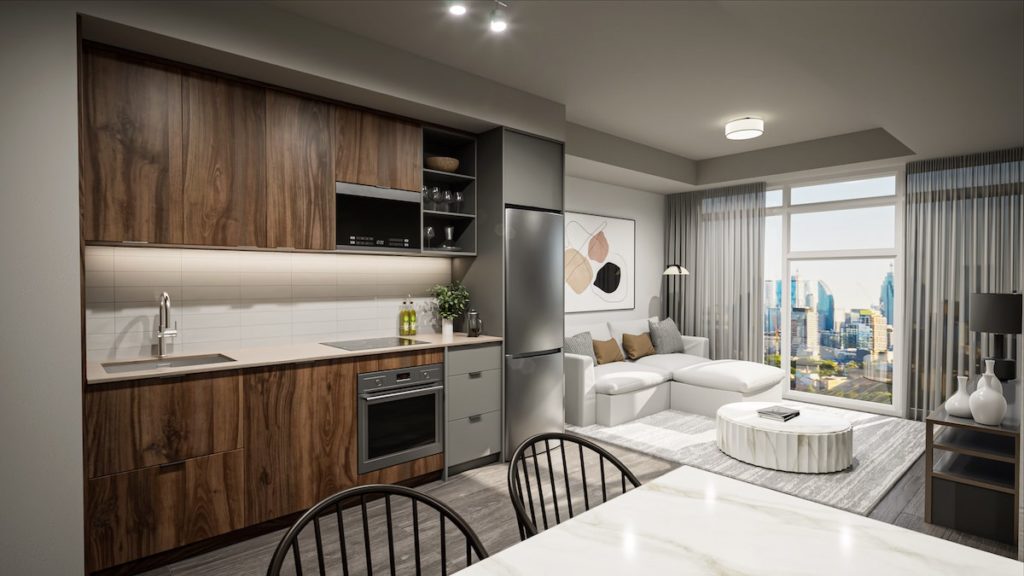 As The Riv finds its place in the heart of one of the country's fastest-growing rental markets, you're presented with an incredible investment opportunity. According to the May 2023 rental report by Rentals.ca and Urbanation, Toronto's rental prices have soared by 41% since April 2021, averaging at $2,822. Secure your future with a property that not only offers a remarkable living experience but also holds the promise of a lucrative investment.
Developer


Broccolini, a family-owned enterprise with over 70 years of expertise, presents The Riv as an embodiment of their core values: honesty, integrity, perseverance, and an entrepreneurial spirit. As a leading single-source provider of construction, development, property management, and real estate services in Toronto and Montreal, Broccolini's commitment to building both remarkable structures and lasting relationships is unparalleled. With over 20 million sq. ft. built and recognized as Canada's 9th largest building developer, Broccolini's legacy of excellence stands as a testament to their unwavering dedication.
Secure Your Spot at The Riv Today
Experience urban living like never before – register now to receive exclusive updates and information about this project. Elevate your lifestyle, embrace seamless connectivity, and seize a golden investment opportunity with The Riv.