Introducing The Unionville, a new mid-rise pre-construction condominium coming to Markham by inCan Developments. The luxury building boasts a stunning modern exterior designed by BNA and will be ten storeys high, hosting a total of 270 units. Located at 9332 Kennedy Road, at the intersection of Kennedy Road and 16th Avenue, this location is perfect for families and young professionals as it offers proximity to major amenities while retaining a quiet community vibe.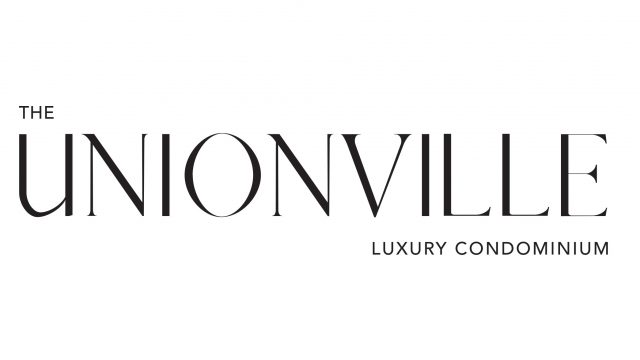 AMENITIES AT THE UNIONVILLE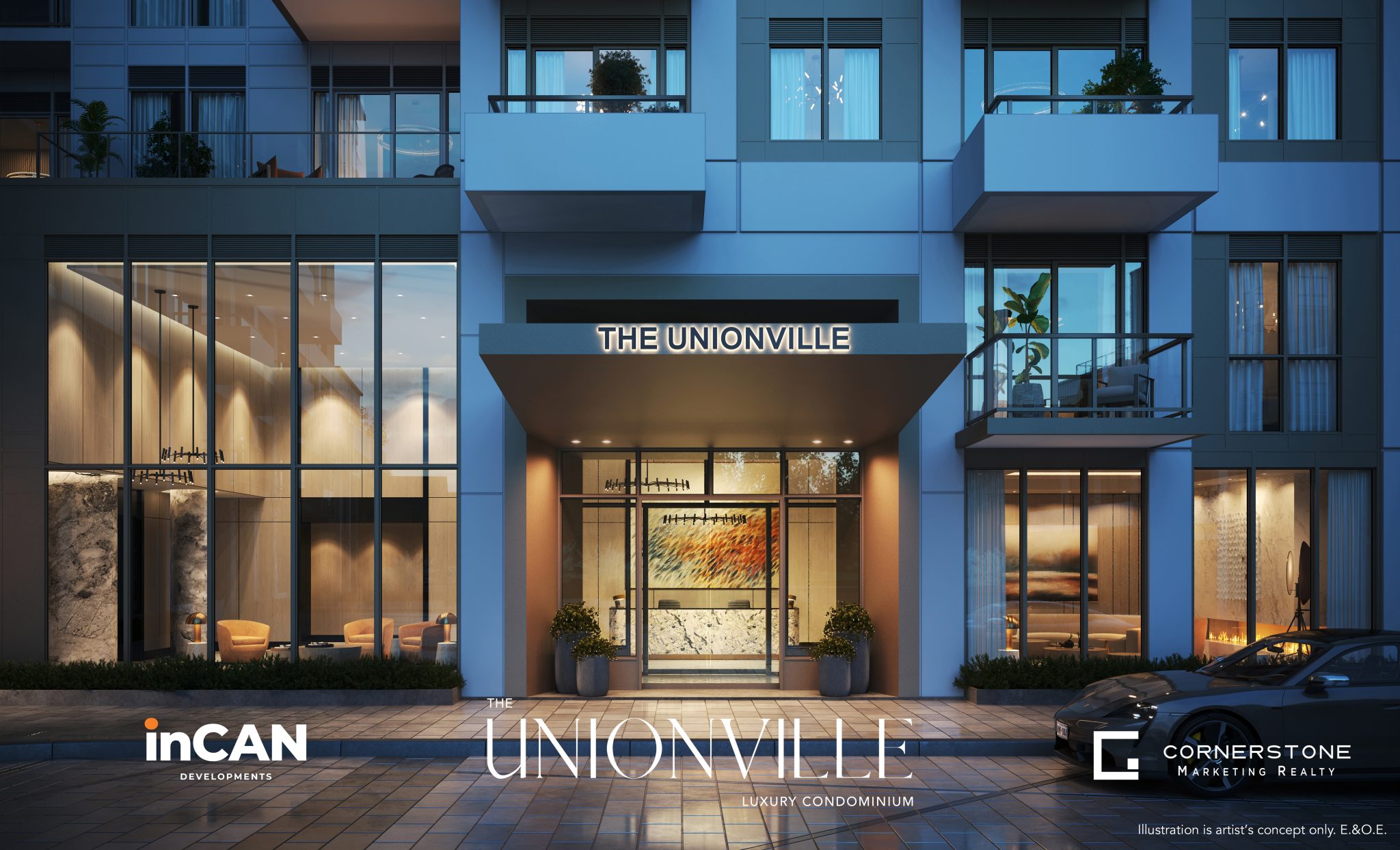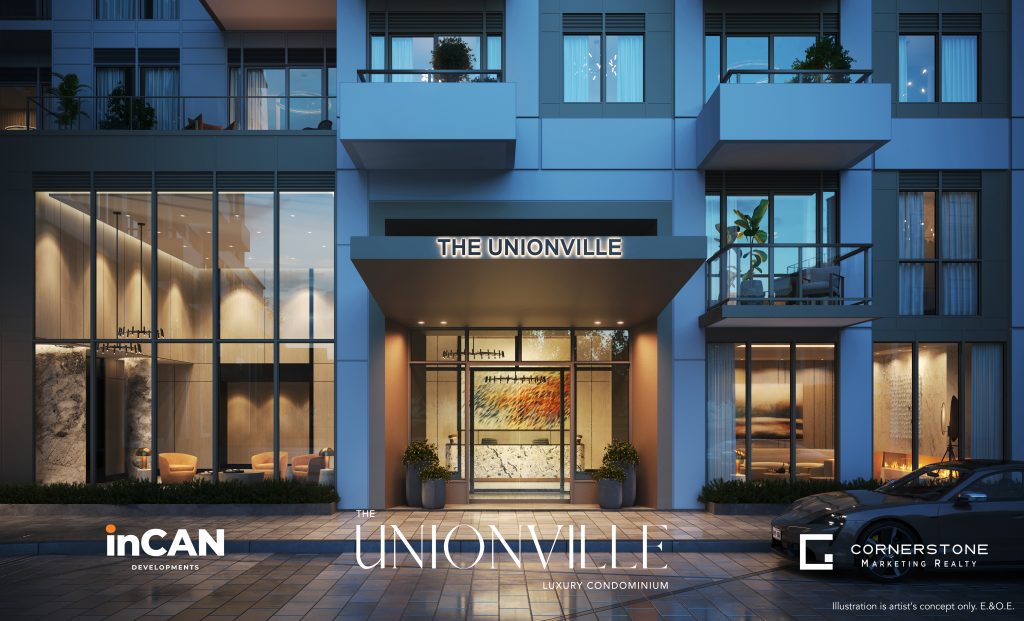 The Unionville Condos is a ten storey residential building at 9332 Kennedy Road. To the north are undeveloped lands that will be the site of a future townhouse development and to the south is Unionville Montessori Private School. To the east and west are residential and townhouse developments.
There will be ample space for residents' leisure including private outdoor amenity space and beautiful finishes. The building will have a total of 270 units ranging from 1 to 3 bedrooms, in addition to Signature Townhomes. Both townhouse and penthouse units feature soaring 10 foot smooth ceilings. Additionally, The Unionville offers Secure Plus+ underground parking with optical license plate recognition, 24-7 monitoring, and a dual pass control system for vehicle security.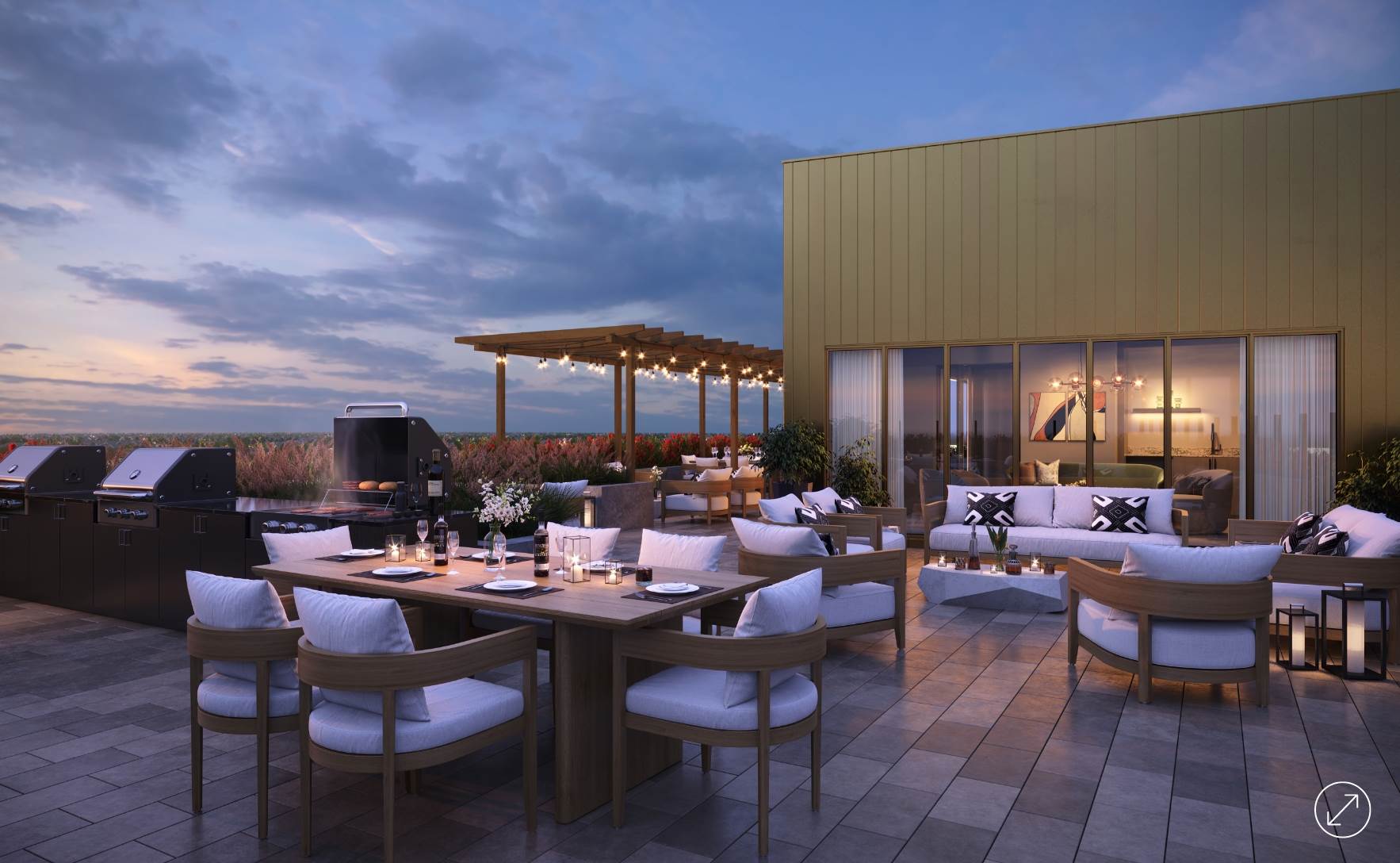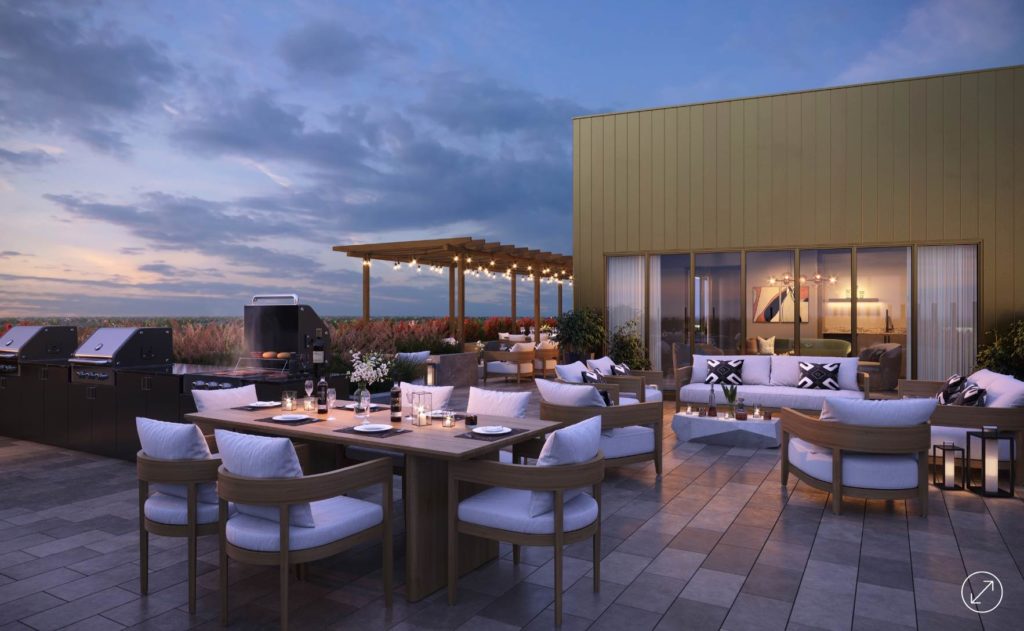 Luxury Amenities Include:
Lounge: A lounge is a great space for residents to relax and unwind after a long day. It's a perfect spot to socialize with friends or to catch up on some work outside of your apartment.
2-Storey Grand Lobby: A grand lobby creates an impressive first impression for guests and residents alike.
Music Studio: A music studio is an excellent amenity for residents who are musicians or music enthusiasts. It provides a dedicated space to practice, record, or simply enjoy music without disturbing neighbours. Kids can easily have their music lessons in the music studio without having to leave their home.
Rooftop Terrace: Enjoy stunning views from the rooftop of The Unionville! As the majority of the surrounding area is freehold residential homes, your view won't be blocked by taller buildings. It's a great spot for entertaining guests or hosting parties, events, or just relaxing in the sun.
Summit Gym: A gym is a must-have amenity for many renters, as it provides a convenient and accessible place to exercise. A well-equipped gym can save residents the hassle and cost of a gym membership elsewhere. Plus, having a gym on-site means you can work out on your own schedule without leaving the building. The gym at The Unionville Condos will have spectacular views with its large widespread windows.
Kids Club: The kids club provides a safe and supervised space for kids to play and socialize with other children in the building. Parents can use the time to run errands or take care of other tasks, knowing their children are in a secure environment.
Virtual Golf Simulator: Whether you're a golf enthusiast or casual player, the virtual golf simulator will allow you to practice your swing in a realistic and safe environment, without having to leave the building (golf in the winter!).
LOCATION OF THE UNIONVILLE
The Unionville will be located in the Unionville neighbourhood of Markham – an area popular with tourists because of its traditional restaurants, pubs, and boutiques. Unionville has a small-town charm that attracts families who enjoy its beautiful scenery and strolling down Unionville Main Street, which is only a 10-minute drive away.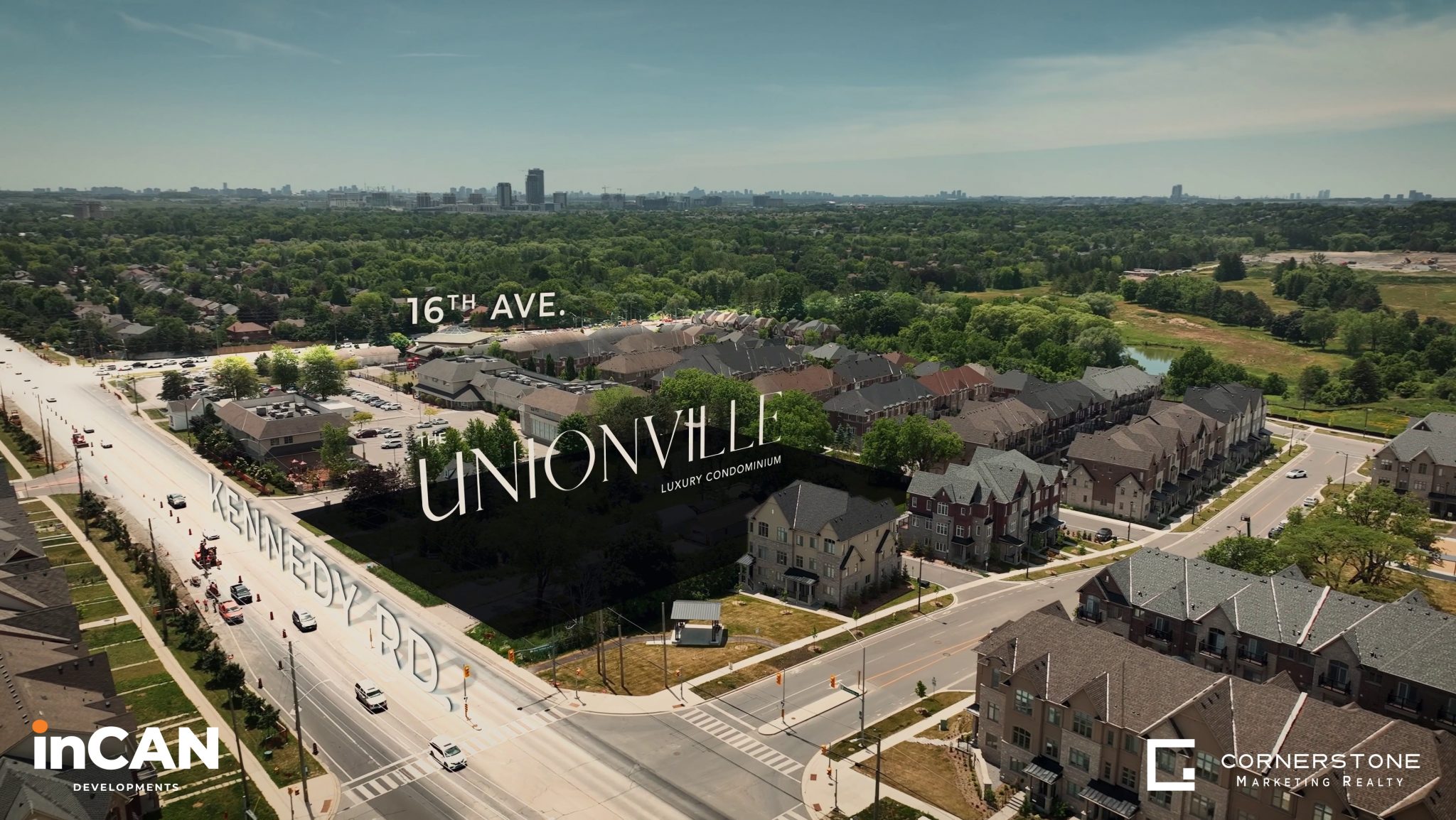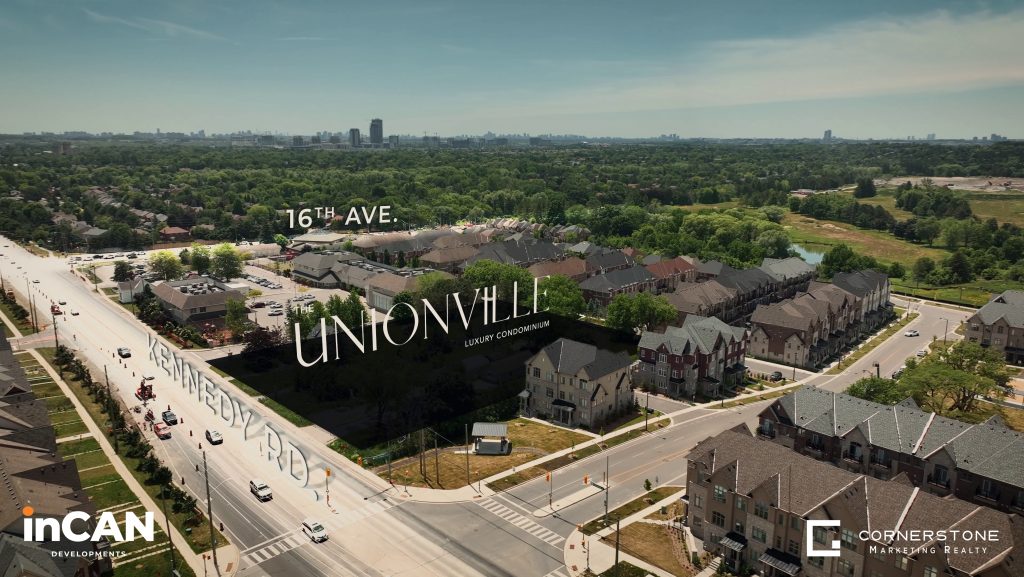 Distinguished Education Near The Unionville
The Unionville Condos is surrounded by many amenities that are suitable for families and young professionals. The Unionville Montessori Private School is only a two-minute walk away, a well-known school that has a pristine reputation of developing the mindsets of young children into leaders. Also nearby is the Beckett Farm Public School, only a 10-minute walk away, the Kumon Math & Reading Centre, only an 11-minute walk away, and Unionville Public School, also an 11-minute walk away. Families at The Unionville Condos will have many options when it comes to their children's education and choosing the optimal school.
You're also only a five-minute walk away from The Village Grocer, a local family grocery store and to the Unionville Guardian Pharmacy, only a four-minute walk away.
Surrounding the site are various parklands and art facilities – such as the York Downs Golf and Country Club, Varley Art Gallery of Markham, McKay Art Centre Angus Glen Golf Club, and Fairtree Golf Centre. Whether you're an art enthusiast or want to take up a new hobby, such as golf, you have everything you need at your fingertips!
TRANSIT
Located at 9332 Kennedy Road, at the northwest corner of 16th Avenue and Kennedy Road, inCan Developments could not have chosen a better location for transit and getting around. Whether you're travelling in and out of the city for work, leisure, or family – know that your commute will be easy. In addition to that, a variety of buses run along Kennedy Road, and the Centennial GO Station, a stop on the Stouffville GO Transit Line, is only a 7-minute drive away. Furthermore, luckily for residents at The Unionville Condos, the Stouffville GO Transit Line is undergoing an expansion with the introduction of four new stations. Notably, the Stouffville GO Transit Line extends from York Region to Toronto and will provide trains every 15 minutes with the extension.
Moreover, getting around by car is also easily accessible with Highway 7 to your south and Highway 404 to your west. With such convenient access to multiple modes of transportation, commuting from The Unionville Condos will be a breeze. Therefore, take this chance to experience luxurious condominium living in Markham, the most up-and-coming city in the Greater Toronto Area.
Learn more about recent development launches in Markham.
Downtown Markham also offers condominiums close to the new Markham campus of York University.
Deposit Structure*:
Register below to receive the 20% deposit structure!
DEVELOPER
The needs of their clients are at the heart of everything they do. Through careful planning and innovative design, inCan Developments strives to create communities that provide comfort, trust, and inspiration to every homeowner. They hand-select the finest locations across the GTA, create thoughtfully-designed layouts, and implement only the finest materials in order to ensure the highest level of quality and instill pride in every new development. With the drive to continue raising their standards for quality and service, inCan Developments is dedicated to building sustainable growth into the future of the GTA's ever-changing residential real estate industry.
ARCHITECT
BNA was formed in 2019 by Martin Baron and Jason Nelson, both multiple-award winning architects who take a hands-on approach to all projects. They offer extraordinary award-winning design, rigorous execution, and outstanding client service. With strong design leadership and a curious and playful imagination, BNA discovers hidden opportunities in every project to maximize value for their clients.