Welcome to Westshore at Long Branch, your gateway to modern living in Downtown Etobicoke. This is an exceptional pre-construction hybrid stacked townhouse development. This project offers an enticing blend of waterfront living, unparalleled amenities. These hybrid townhomes range from 1 to 3.5 bedrooms offering a variety of sizes for all residents. The trusted craftsmanship of Minto, an award-winning developer with a legacy of over 65 years and 100,000 homes. Join us on a journey to explore the remarkable features and benefits that await you at Westshore.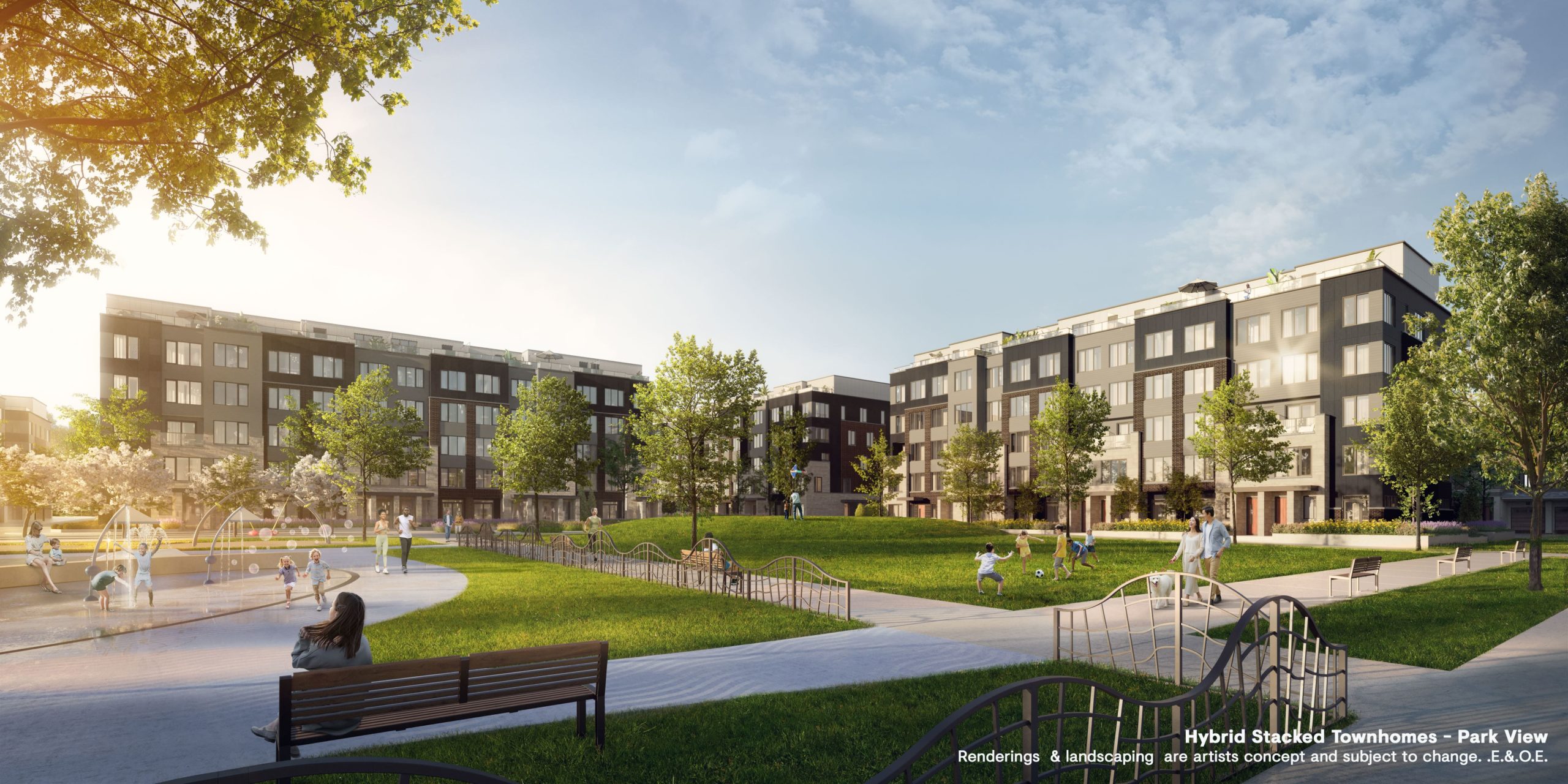 Westshore Location: Where Lifestyle Meets Waterfront
Discover the essence of connected living at Westshore at Long Branch. Nestled in the heart of Downtown Etobicoke, this waterfront location is the epitome of convenience and leisure. Here, you'll be just moments away from the Humber College Lakeshore Campus, and a leisurely stroll from the serene shores of Lake Ontario. Your daily life will be enriched by the presence of parks, promenades, marinas, and sailing clubs, making it the perfect blend of urban and outdoor living.
Some of the nearby parks include:
Marie Curtis Park
Colonel Samuel Smith Park
Long Branch Park
Birch Park
For shopping enthusiasts, a variety of options are within easy reach, including CF Sherway Gardens, Costco Wholesale, Dixie Outlet Mall, Alderwood Plaza, IKEA Etobicoke, and Farm Boy. Dining out is a breeze, with a plethora of restaurants in the vicinity, such as Pulcinella Ristorante, Terminal 3 Coffee Roasters, Woody's Burgers Bar & Grill, and Starbucks.
Amenities: Elevate Your Living Experience at Westshore
At Westshore at Long Branch, Minto has carefully considered the feedback from the existing Long Branch Minto community to create a spectacular and livable home. Private entrances, outdoor spaces, and parking ensure your privacy and convenience. This community offers curated amenities both indoor and outdoor, including a co-working space and multi-functional room, catering to all your needs.
One standout feature is the inclusion of elevators, making the townhouse units more accessible and eliminating the need to climb numerous stairs. This thoughtful design change alone sets Westshore apart, making it a community tailored to your comfort and convenience.
The living experience is further elevated with Garden Towns, Flats, and Sky Towns:
Garden Towns are on the ground floor with two storeys and a garden patio.
Flats are single-storey units that offer a condominium-like experience with a touch of exclusivity, complete with a terrace.
Sky Towns are two-storey townhomes with a rooftop terrace, and the bedroom strategically located on the lower floor to ensure guest access without traversing your bedroom.
Features & Finishes: A Life of Comfort and Sustainability
At Westshore at Long Branch, the focus is on your well-being and the environment. The high-performance mechanical systems include an Energy Recovery Ventilation system that ensures fresh, filtered air throughout your home. Healthier materials and finishes, such as low VOC paint and Green Label Plus-certified carpeting, enhance indoor air quality.
Water-efficient fixtures not only protect you from rising utility costs but also reduce water consumption by up to 30%. Additionally, the high-performance envelope design minimizes heating and cooling requirements through enhanced insulation, energy-efficient windows, and airtight construction practices, resulting in utility cost savings and improved comfort conditions.
Transit: Seamless Connectivity
Westshore at Long Branch is perfectly situated for those who need to commute. You're only 2 stops away from Union Station on the GO train, ensuring effortless access to the city's core. With the Gardiner Expressway, QEW, and Highway 427 just 5 minutes away, getting around the Greater Toronto Area is a breeze. The TTC 501 Streetcar is right at your doorstep, providing even more transit options.
Westshore Developer: Minto – A Legacy of Excellence
When it comes to your future home, trust matters. Minto, an award-winning developer with a history spanning over 65 years, has earned its reputation by consistently putting homeowners first. With more than 100,000 homes under their belt, Minto stands in a class of its own. They are renowned for quality craftsmanship, prime locations, sustainable features, smart technology, and innovative designs.
Having left their mark across the Greater Toronto Area, Ottawa, Calgary, and the United States, Minto's commitment to excellence is unwavering. At Westshore at Long Branch, you can rest assured that you're not only buying a home but also investing in a piece of Minto's storied legacy.
Exceptional Value: Your Waterfront Address
Are you searching for the best value in Toronto? Look no further than Westshore at Long Branch. Here, you can own a townhome for less than the price of a 2-bedroom condo in downtown Toronto, without compromising on the waterfront location in the heart of Etobicoke.
Enjoy the benefits of an affordable new build with resale value potential and significantly lower carrying costs. Plus, take advantage of a long closing in late 2027 (tentative), ensuring you have ample time to prepare for your dream waterfront home.
Don't miss this opportunity to embrace a new standard of living in Downtown Etobicoke. Register now to receive more information about Westshore at Long Branch, and take the first step toward making this exceptional development your future home. Experience the perfect blend of convenience, luxury, and affordability. Discover Westshore today.