Project Summary
Introducing the latest condominium tower, an impressive addition to the dynamic Vaughan Metropolitan Centre community.
V City Condos, crafted by Liberty Development Corporation, stands as a fresh mixed-use high-rise condominium in Concord, Vaughan. Nestled at 2901 Hwy 7 within the Vaughan Metropolitan Centre (VMC), precisely situated at the intersection of Highway 7 and Maplecrete Road, this development comprises two pre-construction towers, soaring at 49 and 45 stories. 
This remarkable undertaking brings forth a total of 1,018 new residential units, offering a diverse array of housing choices. Its prime location guarantees seamless connectivity to the TTC Subway, Highways 400 and 407, enhancing convenience for its future residents.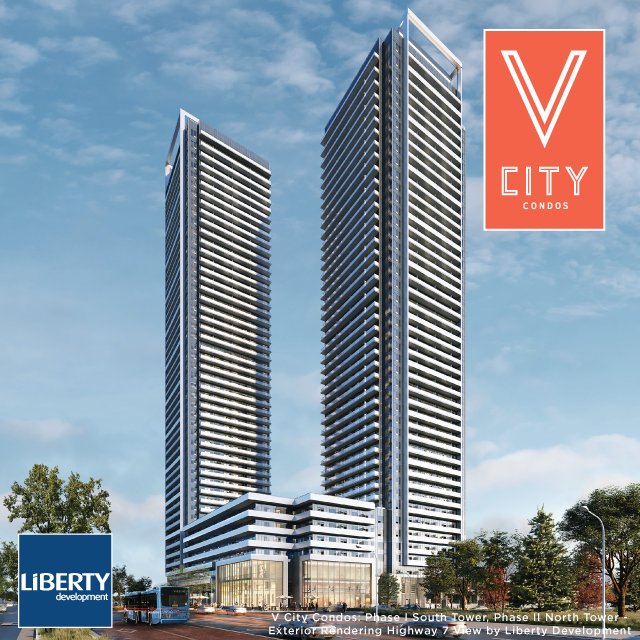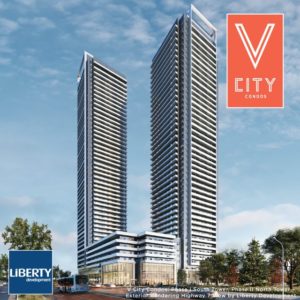 Project Name: V City Condos 
Location: 2901 Highway 7, Vaughan, Ontario, L4K 1W2
Developer: Liberty Development Corporation 
Architect: Dialog 
Status: Pre-construction 
No. of buildings: 2
Storeys: 49, 45
Building Type: Residential (Condo), Commercial (Retail) 
Total no. of units: 1,018 
Estimated Occupancy Date: TBA
Great Amenities
The V City project is set to present an impressive offering of plentiful indoor and outdoor amenities including a comprehensive full-service concierge. Among the indoor amenities, it's expected that residents will have access to a fully equipped fitness room, a luxurious pool, a serene yoga space, children's playroom, and a peaceful library area, among other offerings. This new mixed-use high-rise condominium development takes root in a transit-centered and family-oriented locale. A pet wash facility is also expected on the 1st floor of the podium, catering to residents looking to pamper their furry companions before or after strolls. Above the 3rd and 7th floors, plans include a green roof that adds to the aesthetic charm of the buildings' exteriors.
The development also anticipates dedicated bicycle parking storage rooms, positioned on the ground floor and within the below-grade parking structure of the two towers. Characterized by sleek lines, expansive terraces, and balconies, these three towers will emanate an ultra-modern design, seamlessly enhancing the visual appeal of the VMC's streetscape.
Location Excellence
V City Condos is strategically located in Vaughan's highly anticipated modern neighborhood, the VMC. This area is witnessing a surge in new residential projects inspired by the extended York-Spadina subway, set to create a transit-oriented, family-friendly hub for various activities.
The diverse community offers numerous conveniences nearby, including restaurants, entertainment, and Vaughan Mills outlet mall with over 200 stores. PwC and KPMG's presence adds an employment anchor.
The VMC's growth is evident, with a projected population of 25,000 residents in 12,000 new homes by 2031, driven by the subway extension bringing transit, jobs, and opportunities.
Designed to enhance the public realm, the development aligns with street frontages, parks, and more, contributing to a vibrant environment. The future possibilities are boundless.
Transit Accessibility
This location boasts exceptional transit connectivity, with easy access to various bus and train services via Hwy 7, which is well-served by York Region Transit bus routes. This provides convenient links to VIVA bus rapid transit (BRT) Creditstone station on the VIVA Orange line, and the Vaughan Metropolitan Centre (VMC) subway station on TTC Line 1 extension. Utilizing these routes, commuters can reach downtown Toronto in under an hour.
Drivers will appreciate the site's proximity to major highways, including 400, 404, 401, and 410, facilitating seamless travel throughout the GTA and around Vaughan. It's 15 minutes Subway ride to York University, making the project ideal for students and staff. 
With its strong transit options, upcoming commercial hub, family-friendly orientation, and cultural attractions, this development is poised to attract a diverse range of buyers. From young professionals to families and retirees, anyone seeking a promising investment opportunity will find this locale irresistible. Positioned to become a hub of financial innovation and smart city initiatives, the condominiums in this area are primed for success.
About the Developers, Architects, and Designers:
As a prominent force in the Greater Toronto Area's real estate landscape, Liberty Development Corporation stands as a premier creator of contemporary condominium communities. In addition to this impressive portfolio notably, they've played a pivotal role in shaping several noteworthy commercial ventures as well. Liberty Development, the visionary behind V City, has an impressive track record of crafting exceptional living spaces that exude sophistication and elegance. 
As a renowned developer, Liberty is committed to creating communities that blend modern architecture with thoughtful design, ensuring a lifestyle that is both stylish and comfortable.