Presenting Brownlow at Yonge and Eglinton—an eagerly anticipated pre-construction condo development by Menkes Developments. This development designed by Turner Fleischer Architects consists of two buildings, standing at 45, 40, and 35 storeys respectively. The units will range from one to three bedrooms, featuring modern finishes, spacious layouts, and balconies or terraces. Situated in the heart of Yonge and Eglinton, Brownlow is poised to attract numerous interested buyers.
The Neighbourhood
Brownlow at Yonge and Eglinton offers a variety of suite options, including 1-bedroom, 2-bedroom, and 3-bedroom layouts. It is ideally located at the intersection of Yonge and Eglinton, in the sought-after neighbourhood known as Midtown. Within this vibrant community, residents can enjoy several parks. For example Eglinton Park, Oriole Park, and Sherwood Park provide the perfect setting for outdoor activities and relaxation.
Residents of Brownlow will have convenient access to a wide range of stores and businesses, including grocery stores, boutiques, and specialty shops. The area is renowned for its diverse and exciting culinary scene, offering options that range from upscale restaurants to casual eateries. Additionally, popular attractions in the vicinity include the Eglinton Grand Theatre, Mount Pleasant Cemetery, and the Yonge-Eglinton Centre, which features a movie theatre, shops, and restaurants.
The neighbourhood is well-served by transit, with multiple subway and bus routes operating in the area. Reputable schools, such as Northern Secondary School and North Toronto Collegiate Institute, are also in close proximity. With its relatively low crime rates, Brownlow at Yonge and Eglinton presents an excellent choice for families, young professionals, and anyone seeking to experience the best that Toronto has to offer.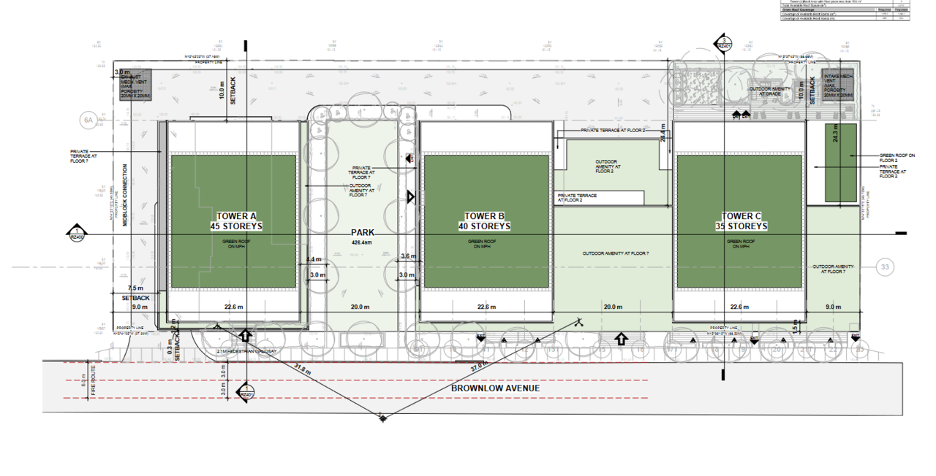 Transit
Residents of Brownlow will easily reach Eglinton subway station in just under 10 minutes. There are several bus routes in the area, providing easy access to other parts of the city. For those who prefer to drive, the Don Valley Parkway and Yonge Street are both easily accessible. Pearson International Airport is approximately a 25-minute drive away.
Brownlow Developer
Discover the exceptional craftsmanship of Menkes Developments Ltd., an esteemed, fully integrated, private real estate company renowned for constructing, owning, and managing office, industrial, retail, and residential properties. As one of Canada's largest private developers, Menkes focuses primarily on the GTA, leveraging its innovative, multi-disciplinary approach and expertise in large-scale, mixed-use development.